Nitrogen Desserts: The Boiler Boys | UK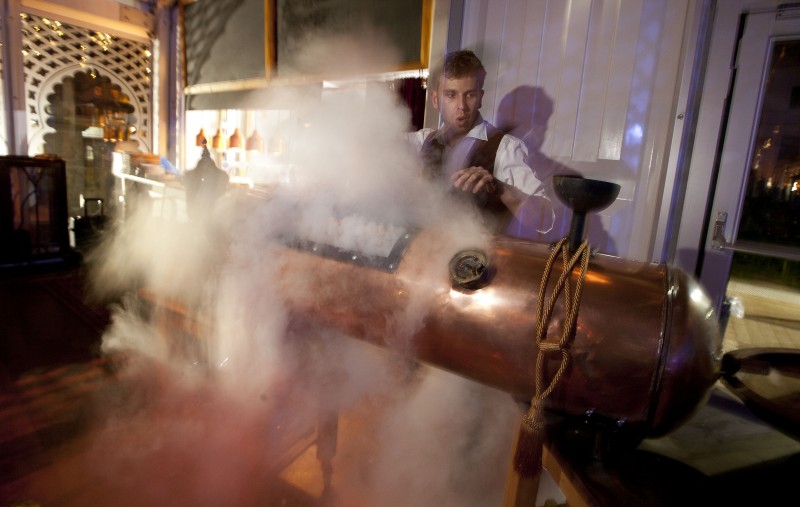 Wow your guests with mad science, nitro experiments and most importantly FUN!
The Boiler Boys bring a new, interactive nitro food concept to a wide range of events, from weddings and corporate events to Christmas parties. They have been experimenting with dessert canapé ideas in their food lab, and can serve up anything from Bloody Mary molecular bubbles to egg & bacon ice cream. If you are looking to bring something totally unique to your event, this would be a great addition to your corporate entertainment .
Instant cocktail ice creams and sorbets can be created before your guests' eyes, whilst nitrogen poached meringues will leave everyone in fits of giggles – watch as they break in the mouth and the vapour trail appears! The Boiler Boys really have created a theatrical and intriguing nitrogen dessert station like no other.
*Please click on the technical specification at the bottom of the page for the full range of flavours, and details on set up etc*
Don't forget – They're not just for science themed events! They're perfect for Alice in Wonderland and Willy Wonka themes, and can change our costumes and characters to fit any theme – just ask!
Bespoke Flavours – they can create bespoke flavours to fit themes at no extra cost.

Additions to the Boiler:
Test Tube Cocktails:
It has to be said…everything tastes better when booze is included! Their test tube and beaker cocktails are not only delicious and boozy but a fun and interactive extra. These can simply be an addition to their Nitro Boiler or form their own alternative cocktail bar.
Upgrades such as flare bar tenders and dry ice are available to add extra wow factor and make your event memorable. Menu options include Aperol Sour, Margarita with lima caviar, Blackberry Fizz with Bramble Caviar, Gin Garden, Cholate Martini, Blue Margarita and Chocolate Martini.
Insta Lolli Trolley:
Everybody has their own favourite ice lolli flavour. Now your guests can create their own with our brand new pic n' mix Lolli Trolley. Choose your base and toppings and produce crazy combinations such as peanut butter & jelly with hundreds and thousands…if that really takes your fancy!
Molecular Canapes and Bowlfood:
With a new chef in the kitchen we've been licking our lips in the lab of late. The results have been a brand new range of canapes and bowlfood including with a molecular twist….watch out Heston…..
Canapes:
Foie Gras Cherry
Seaweed Meringue with Wasabi Yoghurt
Nitro Bloody Mary Cherry Tomato
Horseradish Popcorn
Mussels in Nitro Shell, Cucumber and Granny Smith
Langoustine Quinoa Puff
Marinated Salmon, Beetroot and Citrus Caviar
Fingerfood + Bowlfood:
Quail Leg Lolli Pop, Red Wine Essence and Pistachio
Goats Cheese Cupcake, Smoked Salmon Mousse and Crystalised Apple
Sous Vide Beetroot with Dehydrated Candy Beetroot and Beetroot Air
Goats Cheese Spring Rolls, Tomato and Vanilla Jam
Flame Grilled Mackerel, Seaweed and Mouli Salad with Jalapeno Gel
Braised Ox Cheek, Truffle Parmentier and Portobello Mushroom
Standard Length Of Performance:
3 Hours
Serving Times:
3 hours

Technical Requirements:
They require 2 x trestle tables for the boiler set up. They will require access to power (just a normal plug socket x 4), and running water close by for cleaning. There is some prep work on site for the bubbles, but a small table would be fine for this. Set up takes approx. 2 hours (incl. unloading) depending on the access, and break down approx. 1 hour.
Space – Ideally they require space for two trestle tables length ways and some space behind for service. If you have less space, speak to one of the team as they can work with you to find the best set up at your venue.
Testimonials:
"THANK YOU!!!! The guys were amazing!!!!!!"
– Create Food and Party Design (via Contraband)
"They were all fantastic and really nice people. We will definitely be looking to book both again…Thank you for all of your assistance with the event."
– WRP Ltd (via Contraband)
Previous Clients Include:
Red Bull
BskyB
Sodexo Prestige
Exxon Mobil
Thomson
Reuters
Heineken
Visit Scotland
Fifteen
The Observer
News International
The Recipe
The Rouge Partnership
Rhubarb
Photos of The Boiler Boys