Stilt Walkers: Big Rory, Ochie the Dog & Morag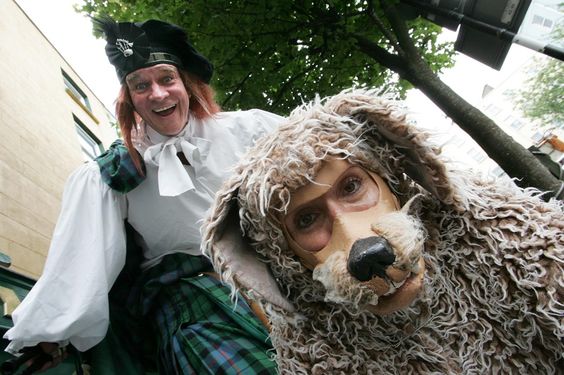 Scotlands sexiest 9 foot giant! He loves to work whilst harassing his audience, playing the bagpipes and causing a happy riot. He has performed in 30 countries round the world, delighting millions of people. Festivals, corporate events, promotions, sporting events, trade shows, after-dinner speeches – hes your man!!!
Ochie is Rorys wayward mongrel. Inevitably theres total confusion as the amorous mutt careers around, peeing on lamp posts and heaven knows what else, with Rory in hot pursuit trying to contain the chaos. If you expect a quiet time from this pair, dont book them!
Acts Available Include:
Big Rory and Gorgeous Morag:
Gorgeous Morag, a 9'2″ sex bomb in stiletto heels. Along with Rory this leggy lush has had crowds wetting themselves from Tighnabruaich to Tokyo. They do a walkabout 'par excellence' in English, French, Japanese, Italian – they'll get an audience screaming in any language! Morag and Rory also do a pure dead lascivious tango (eat your heart out Marlon).
Its a Dogs Life:
Two dogs discuss their lives from a dog's perspective and come up with some startling theories. Inevitably the innocent bystanders are drawn into an ever increasing vortex of surreal chaos and confusion. A distinctly subversive piece – walk or sit about.
Costume List: 
Big Rory and Gorgeous Morag- Scottish/Highland costume, It's a Dogs Life
Death Row Jethro- Pirate, peg leg
Enormous Santa and Rudolf
Standard Length of Performance: 3 x 40 minute sets.
Testimonials:
"Big Rory and Ochie are robust, rollicking and refreshingly scanadalous; Ochie is the dog you always wanted as a kid (though a beermongrel may not have been your first choice of breed). The Seagulls, for all that they're encased crown to crupper in costume and have no language other than "aawk" are whimsically sublime – picture, if you can, two giant seagulls trying on bobble hats and ballerina skirts… It's like Creature Comforts on steroids, only better; for a wonderful blink of time they make the world's nasty bits disappear. Highly recommended. On a five-star rating I'd give them six."
– Australian National Folk Festival
"Rory and Ochie stole the show, they were absolutely brilliant! They were such an extraordinary act and superb performers – worth every penny and we will definitely book them again."
– Big Bright Star
"Dont believe a word youve heard about Big Rory and the team – they are much better!!The most professional, hilarious, wonderful act we have ever had. Loved by everyone, they brought the town to a standstill…never boring and constantly evolving…an event organisers dream booking."
– Greystones Festival
"Certainly livened up our cocktail party"
– Hyatt
"Multi-lingual, a delight to work with"
– Private Client
Photos of Big Rory, Orchie the Dog & Morag