Benoit & Orchestra – Famous Vintage Orchestra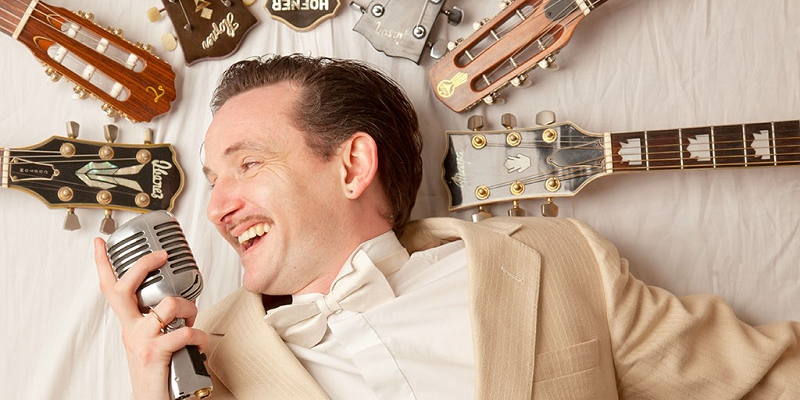 Hiring celebrities to endorse your brand, service or event is very simple. Contraband is the UK's top booking agent, with friendly, experienced account managers who guarantee you the best deal possible.
Benoit and his orchestra are available to book for a variety of corporate events. We work in direct association with Benoit and his orchestra's representative as their preferred booking agent. Contact us today for this celebrity booking, a great addition to your event entertainment.
Benoit Viellefon is one of the outstanding band leaders at work in Europe today, backed by an all-star cast of the UK's finest swing musicians. Here is his story.
Whether it be as a lifelong student of the glorious gypsy guitar musings of Django Reinhardt or as a crew member and specialist mechanic on 1930s De Havilland Tiger Moth airplanes, Benoit has always had a penchant for the nostalgic things in life. Like the man himself, Benoit's music is characterized by its distinctive elegance and boundless energy.
Having spent the late 1990s in the US, Benoit returned to London in 1998 to establish his label JohnJohnRecords.com and to work as a first-call session guitarist on many film soundtracks, international Reggae & Roots Music tours and on London's burgeoning vintage cabaret and burlesque scenes.
Having toured the world as lead guitarist with groups such as ska legends The Trojans, Gaz Mayall, Prince Buster, Rico Rodiguez, Vin Gordon (Studio1 & Bob Marley), Louis Alphonso (Bad manners), Nick Welsh (the Selecter), Rhoda Dakar (Special AKA), and Eddie Tantan Thornton (Beatles, Jimi Hendrix, Boney M, Aswad), Benoit decided it was time to step firmly into the limelight as band leader.
Benoit formed his orchestra in 2009 and it was immediately a hit on London's cabaret and vintage speakeasy scene. Since then Benoit and his Orchestra have played all over the UK and Europe to critical acclaim, fulfilling Benoit's vision of a contemporary orchestra who command the dance floor like the master entertainers of the 1920s, '30s and '40s.
Standard Length Of Performance:
2x45 minutes
Testimonials:
"Thanks for playing at my birthday party. You were amazing, the music was brilliant and you are all very talented."
– Madonna (her birthday party)
"Thank you very much for playing for us."
– Prince Andrew (Duke of Edinburgh Awards)
"Dear Benoit, Thank you so much for playing at my recent birthday party. your style of music suited the occasion and the beautiful setting perfectly."
– Ron Dennis CBE (Mac Laren F1)
"You were staggering and everyone was raving about You. What an incredible weekend!"
– Snow Boy (Festival Curator – Vintage festival)
Previous Clients Include:
Madonna
Prince Andrew / Duke Of Edinburgh Awards
Twinwood Festival
Specsavers
Mayfair Arts Club
Four Seasons Hotel
Boisdale
Repertoire:
STANDARDS
Vocals
After You've Gone
Ain't She Sweet (1927)
All Of Me (1930'S Standard)
As Time Goes By
Besame Mucho (Mexican Trad)
Big Leg Emma (Frank Zappa)
Black Orpheus (Luis Bonfa)
Ca Se Fait, Ca Se Fait Pas
Dancing Cheek To Cheek
Dark Eyes (Russian Folk Song)
Dream A Dream Of Me (Armstrong)
Egyptian Ella
Honeysuckle Rose (1920'S Standard)
I Surrender My Dear
I Want You To Be My Babe (Louis Prima)
In The Mood For Love (1930'S Standard)
Is You Is Or Is You Ain't My Baby (Louis Jordan)
It Don't Mean A Thing If It Ain't Got That Swing (Ellington)
It's Only A Paper Moon (Nat King Cole)
Junglebook – King Of The Swingers (Disney, Ben Sherman)
Les Feuilles Mortes (Autumn Leaves, Original With Verse)
Love Me Or Leave Me (1926 Standard, Nina Simone)
Mambo Italiano (Renato Carosone)
My Funny Valentine (Sinatra Version)
My Woman (Al Bowly)
Out With The Wrong Women (Big Bill Broonzy)
Pennies From Heaven (1930'S Standard)
Rosetta (1930'S Hot Jazz)
Shine
Smile (Charles Chaplin)
Sous Le Ciel De Paris (French Musette, 1950'S Jazz Waltz)
Stepping Out With My Baby
Sunny Side Of The Street (1920'S Standard)
The Sheik Of Araby (1921)
When I Fall In Love
When I Take My Sugar To Tea
Whispering (1926)
Instrumentals
Blue Monk
Caravan (Ellington 1920'S / Samba Version)
Charleston (Including The Verse)
I Got Rhythm
Limehouse Blues (1930'S Hot Jazz)
Midnight In Moscow (Russian Trad)
Misrilou (Turkish Trad, Pulp Fiction)
Subdued Mood (1920'S Harlem Swing)
Sweet Georgia Brown (1930'S Hot Jazz)
Take The A Train
The Godfather (1930'S Italian Trad)
Two Guitars (Russian Trad)
FRENCH MUSIC
Instrumental – gypsy
Daphné (1930's Django Reinhardt)
Djangology (1930's Django Reinhardt)
Douce ambiance (1930's Django Reinhardt)
Minor Swing (1930's Django Reinhardt)
Nuages (1930's Django Reinhardt)
Swing 42 (1930's Django Reinhardt)
Accordion tunes – Waltz musettes (Hot Club only)
Brise Napolitaine (French musette, 1930's jazz waltz)
Flambée montalbanaise (French musette, 1930's jazz waltz)
Gypsy Tango (French tango)
Indifference (French musette, 1930's jazz waltz)
Mon coeur vagabond (French musette, 1930's jazz waltz)
Reve d'accordeoniste (French musette, 1930's jazz waltz)
Valse des niglos (French musette, 1930's jazz waltz)
Valse des niglos (French musette, 1930's jazz waltz)
ORIGINAL MUSIC
Vocals
Bye-bye Blues
I bet you don't know who the band is
Mon amour
More Money
My dog is a gypsy
Passion for reproduction
COMING SOON (September/October)
Besame Mucho (Mexican trad)
C'est si bon (Montand)
Coming home baby (From Joe)
Coucou (Django Reinhardt)
Everybody loves my baby (boswell sisters)
Everytime I hear that mellow saxophone (Ray Montell)
Fais moi mal Johnny (Swing R&B)
Ferme la bouche (Taps Miller)
La mer ( beyond the sea) Charles Trenet
Le claqueur de doigts (serge gainsbourg)
These foolish things ( Nat King Cole)
You run your mouth (Louis Jordan)
Contact us today if you would like Benoit and his orchestra to be the highlight of your event! The most memorable moments are waiting and they could be yours today!
Photos of Benoit & Orchestra
Book Benoit & Orchestra
Want to book a performer, or just find out more? Give us a call on +44 (0)208 8291140 or use our online contact form via the button below.