Ben Ebbrell – Celebrity Chef | UK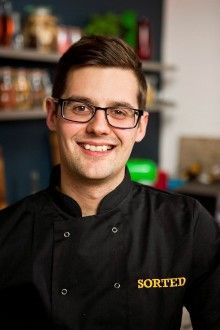 Chef Ben Ebbrell is available to book for a variety of events – we work in direct association with his representative as a booking agent for Ben Ebbrell.
Ben Ebbrell won the national search for the next celebrity chef on the Good Food channel show, 'Market Kitchen'. He then went on to win SquareMile magazine's 30 under 20 Talent Award in 2011.
From restaurants & hotels to private dining, Ben Ebbrell is a professionally trained chief with over 10 years' experience and a 1st Class honours 'Culinary Arts Management' degree.
As founder and chef for global online cooking channel, SORTED, Ben and the team create quick, simple, tasty grab to share with the community and mates. Helping other novice cooks enjoy food as much as he does.
Ben Ebbrellco-presented for CITV/ITV's Saturday morning show 'Munch Box'. The show sets challenges for young enthusiastic chefs. His other TV appearances include, Jamie and Jimmy's Food Fight Club, Perfect and the BBC's Young Apprentice.
Contact us today if you would like to book Ben Ebbrell to be the highlight of your event! The most memorable moments are waiting and we as your booking agent are happy to help you to make them yours today.
Photos of Ben Ebbrell