Becci – Freelance Artist & Workshop Leader | UK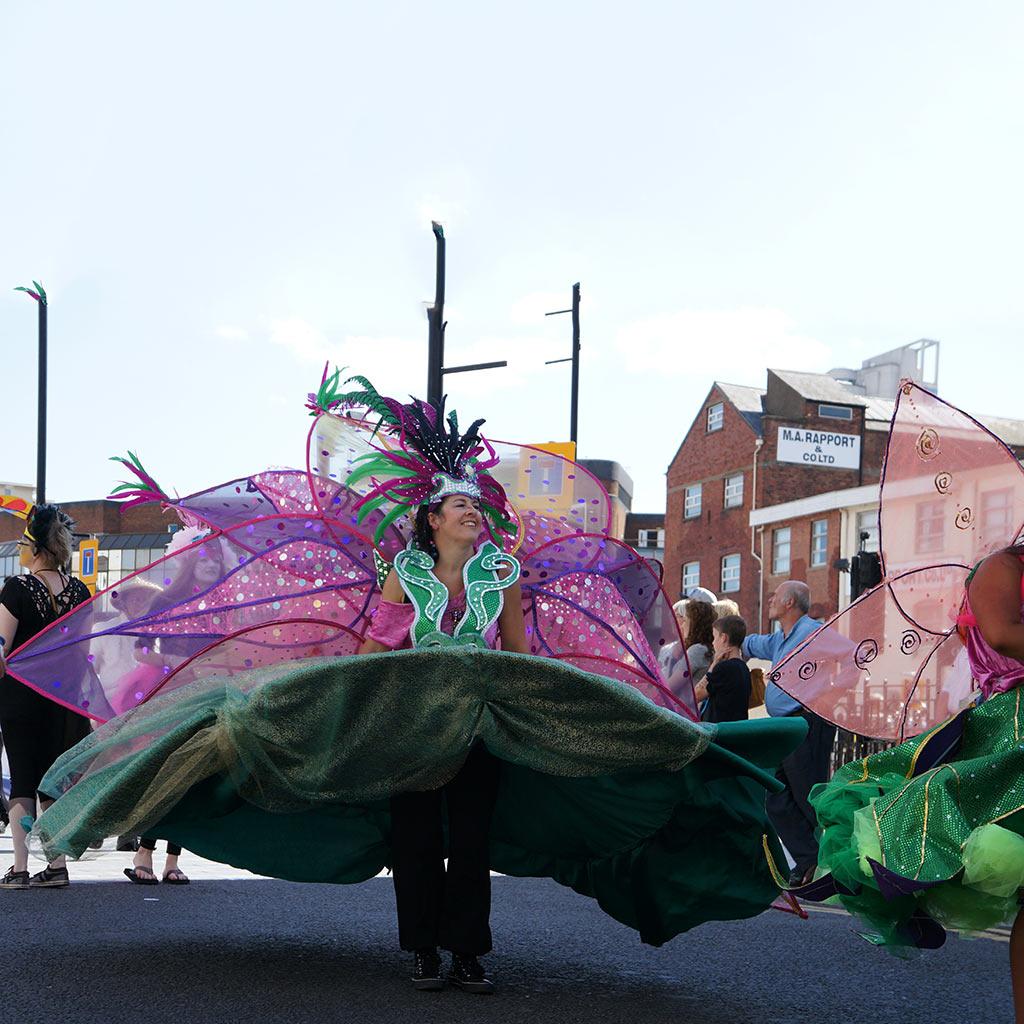 Becci
Becci is a freelance artist offering a variety of carnival based head dress workshops and also other workshops for all ages. This includes print making, paper mache, mural work, textiles work such as batik and other permanent art works. Her workshops make perfect Children's entertainment for any event, be it birthday parties, weddings, private parties, or even corporate events and festivals.
Becci has perfected her craft through studies and working on a wide range of projects. Becci has perfected her craft through studies and working on a wide range of projects. Becci works with schools and communities and other various groups and is always ready for interesting ways to incorporate themes, team building and staff challenges.
Bring some rainbow smiles to your event!
Standard Length Of Performance:
Workshops can be from 2 hours – across a number of days. It is all project dependent.
Testimonials:
"For several years Becci has worked with a number of members from the support group Thrive Cardiff, a charity which helps families of children with disabilities. She has run a number of creative workshops, including mask-making, willow-weaving and dream-weaver craft. She has also supported Thrive members in preparation for the annual SWICA carnival. On every occasion she has always been brilliantly encouraging, helpful and kind. Her classes are always enjoyable and good fun."
– Thrive

"Becci is an absolute joy to work with. She met the brief in such an imaginative way and created something that was perfect for our guests and our theme."
– Greenman Festival – Little Folk Décor Manager
Previous Clients Include:
SWICA :South Wales Intercultural Carnival Arts, Cardiff
Wales Millennium centre, Cardiff
Vision 21, Cardiff
Thrive, Cardiff
Romani Cultural and Arts Company, Cardiff
Penarth pavilion, Penarth
Barnados
Criw celf, Cardiff
Vale young carers

Photos of Becci
Book Becci
Want to book a performer, or just find out more? Give us a call on +44 (0)208 8291140 or use our online contact form via the button below.