Bass Six – Beatboxer | UK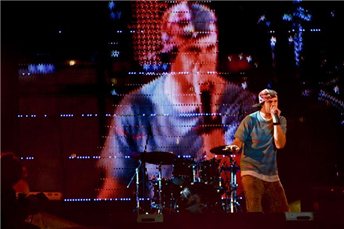 Booking Bass Six will cause a storm at your special event! We are a booking agent for Bass Six, and can arrange for him to perform for your guests. Performing worldwide to versatile crowds in unsuspecting situations, Bass Six transforms any event, of any audience size, with his high energy beatbox performances and unique hosting presence. As a compere, Bass Six has beatboxed his way around all the major and independent UK music events and festivals for the last eight years, introducing a wealth of global entertainment along the way.
Recently Bass Six featured on the iPhone's number one free music app in the UK and 34 other countries with "iAmBeatBox". He also has various TV appearances under his belt, including Russell Howard's Good News. In 2011, he was also the star of the Hobnobs 'Mix up a Medley' TV commercials.
One of the most energetic and enthusiastic beatboxers in the world, he caters for every occasion. Bass Six's charm and charisma never cease as he wows audiences with the most diverse and original beatbox techniques and styles to date. Having performed at over 600 venues, Bass Six is known as the glue that holds any stage together and lifts the energy in every corner of the room.
Contraband is the UK's top booking agent, with affable, experienced account managers who guarantee you the best deal possible. Contact us today if you would like to book Bass Six to be the headline of your event! We as your booking agent are more than happy to help you create the most memorable moments with Bass Six.
Workshops:
The beatboxer also teaches workshops to all ages so the audience can learn how to beatbox.
Technical Specifications:
Bass Six will need a microphone (a cordless microphone is preferable, he can supply his own if necessary), and a PA system will need to be provided by the client.
Standard Length of Performance:
The show can last from 5 – 15 minutes. Bass Six can also work with other acts and beatboxers to produce longer shows. The workshops last for 60 minutes.
Testimonials:
"Wow this guy is a real entertainer."
- Visit London
"Thanks for all your inspiring performances at the fashion show without you the show would not have been the same." - Way Out Events
"...On a professional note the patience and grace shown by all of your acts was much appreciated as the festival was at times chaotic. The quality of the performances was awe-inspiriting – Bass Six linked seamlessly and is a fantastic compere..."
- Firefly Solar (via Contraband)
Previous Clients Include:
Coca-Cola
Medley
Visit London
Skull Candy
Glastonbury Festival
British Universities
Global Gathering
Russell Howard Show
Vauxhall
BBC
Way Out Events
Photos of Bass Six