Balloon Modellers Collective | UK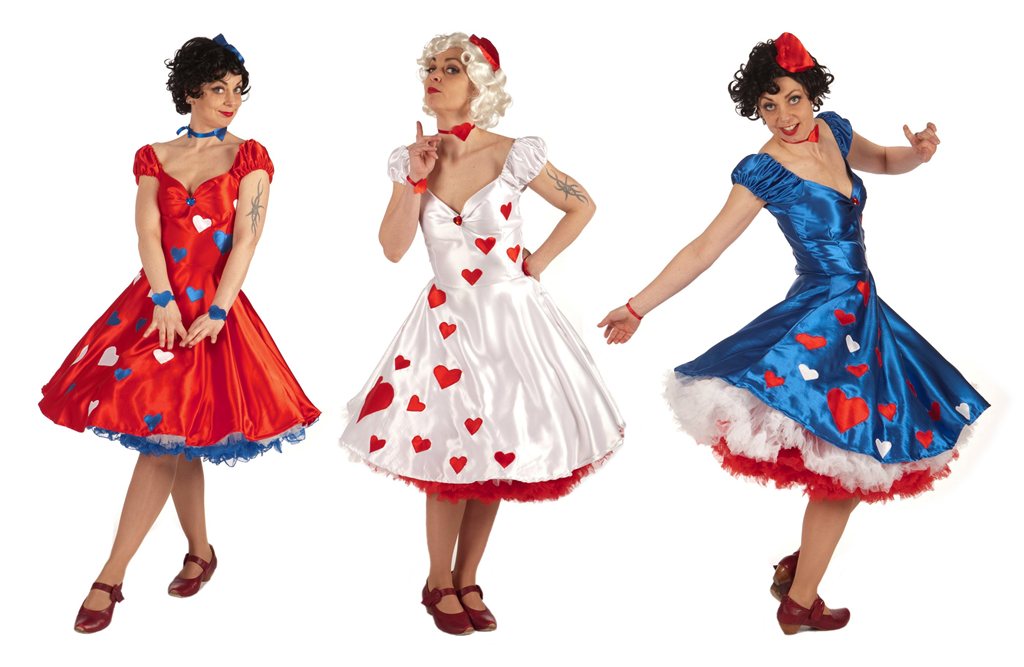 Aff, Sorcha, Glitter Girls, Camilla, Miss Trixsta & Megan
Balloon modelling puts a smile on kids and adults faces alike, bringing colour and laughter to any occasion. Our balloon modellers Aff, Sorcha, The Glitter Girls, Camilla, Miss Trixsta and Megan can create a wide selection of balloons ranging from animals, flowers, wands and swords to games, amazing hats and other dazzling adornments. All this can be done whilst on stilts or on the ground!
They provide the perfect entertainment for corporate functions awards ceremonies, product promotions, restaurant, club or store openings, shopping centre promotions, family fun days, private parties, wedding receptions, student balls, festivals, night clubs, valentines celebrations, Guy Fawkes nights, Christmas and New Years Eve parties!
Testimonials:
"Camilla also did a really good job balloon modelling and there was always had a massive queue!"
- SkyFest
"Miss Trixsta was FAB! Really entertained the crowds and the kids loved her."
- Neon Events & Marketing Ltd
"Miss Trixsta performed at our Company Masked Ball, (she) was bliss. Her skill at making almost anything out of balloons is fantastic. The balloon caricatures had such an uncanny likeness to their models and I adore my angel wings.I would definitely use Contraband Events again and I am telling anyone who will listen what a great company you are. Thank you very much for making our event fabulous."
- Global Marine Systems Limited
"Aff always keeps the queue in fits of giggles"
- Mayhem Nightclub
"Aff's balloons are the best we have ever seen"
- Mothercare
"I am writing on behalf of all the school to say that we had an absolutely super day with Camilla showing us all her craft. The younger children chose their own balloons, while the older classes got the chance to make their own. The children all enjoyed their sessions immensely, as did the staff. …we would have you back again."
- St Nicholas School
"Miss Trixsta was fun and went down really well – delighted she could join us in the end."
- Universal Music
"Miss Trixsta was superb. She was very polite and went down a storm with the kids. She didn't do that much adult ballooning but did offer to, but was too busy with a line of kids on a very hot day."
- Private Client
"Aff was fantastic – we had excellent feedback from a number of people and would definitely consider using him again. Thanks for your help with all the arrangements."
- Nomura International PLC (via Contraband)
"The event went very well. The children were impressed and the teachers too. He made an alien and so many difficult stuff with balloons! Will definitely recommend him to my friends."
- Private Client (via Contraband)
"Thanks again for organising, the guys were great and went down a storm! They were also both a dream to work with, particularly as the weather was so hot and there were so many children to keep happy."
- Pretty Green (via Contraband)
"Yes very good. There were 22 adults at the dinner party,  so more than I thought, and Aff did just what I wanted him to do, drifting around with the guests and making something for each of them. His show went exactly as I had planned."
- Private Client (via Contraband)
"Thank you so much for everything. The Stilt Walkers and Ribbon dancers were awesome we couldn't have been happier......Look forward to working with you again soon."
- Jewish Leadership Council (via Contraband)
"Thanks very much for your help on this. All of the guys were absolutely great!"
- Pretty Green (via Contraband)
Previous Clients Include:
Mitsubishi
Mercedes Benz
British Telecom
JPMorgan Corporate
Virgin Birdman Festival
Waterstones
Sainsbury's
Somerfields
Comet
Woolworths
Whitley's Shopping Centre
Xscape
Extra Care Charity Organisation
City Councils
Luminar Leisure Group Night Clubs
The Marquee Club
Brixton Academy
The Fridge Night Club
God's Kitchen
Global Gathering Festival
Metropolis Productions
Love Parade
THC Album Launch Tour
The Roxy
Mothercare
NFL Wembley
Co-operative
Lloyds TSB
Marks & Spencer
Huntingdon Garden & Leisure
John Lewis
Selfridges
Mayhem Nightclub
2012 Olympics Handover
Brighthouse
The Mall
Balloon Modellers Collective are balloon modellers in London, perfect for wedding reception entertainment, birthday party entertainment, family party entertainment, private parties, party entertainment, christmas party entertainment, school fayre entertainment, school fete entertainment, international event entertainment, themed party entertainment, shopping centre entertainment, school fayre entertainment, school fete entertainment, wedding anniversary.
Photos of Balloon Modellers Collective
Book Balloon Modellers Collective
Want to book a performer, or just find out more? Give us a call on +44 (0)208 8291140 or use our online contact form via the button below.