Balloon Doctor – Balloon Modeller | UK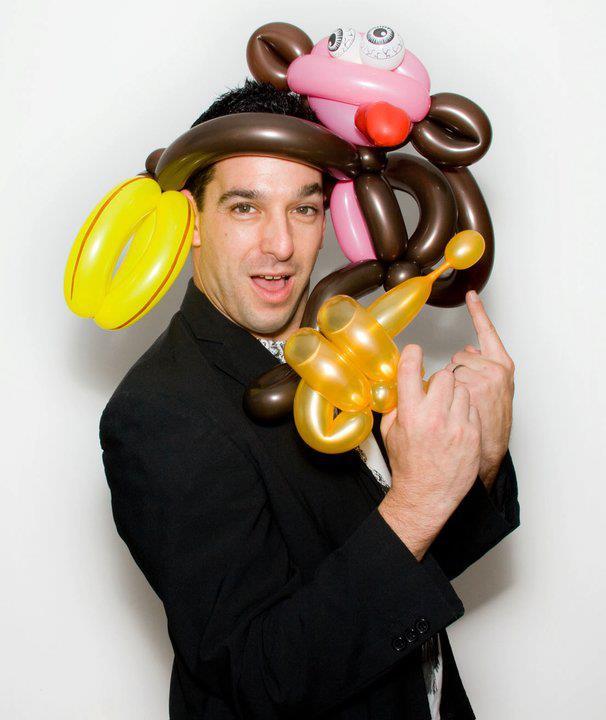 Balloon Doctor
Looking for the ultimate entertainment for your next party or event than book Ally B & Dr Balloonman. Together they combine their skills incorporating magic, comedy and twisted balloon masterpieces to provide you with the finest entertainment. Ally B & Balloon Doctor can also be booked to perform their "Normally Show".
Standard Lengths of Performance: Balloon doctor can perform two small balloon modelling shows that last for 25 minutes each, or can do a walkabout lasting an hour. Alternatively he can do his 'Normally' Show which is 2 hours and includes Izzy Wizzy his trusty side kick!
Testimonials:
"You were brilliant at keeping the 40+ children (mainly 11 /12 year olds) entertained at Zoe's party. The kids were absolutely captivated by you and your amazing balloon creations. You kept them entertained from beginning to end and Zoe & Danny can't stop talking about how fantastic the balloons were! You really helped make the evening special, and I was able to relax as the children were kept entertained. Thank you so much!"
– Private Client
"I LOVE Balloon Doctor & Izzy Wizzy!! No party is complete without them!! So far I have had them to my birthday, 3 of my friends birthdays, my mum's 50th and my baby's 1st birthday! There isn't an occasion where I wouldn't use them. Izzy Wizzy is a comic genius, the balloons are creatively amazing. I love the imagination and just how amusing they are! They last for ages after as well. Every time I see them about the house I always smile!! 🙂 I love u guys" – Private Client
Previous Clients Include:
LV
Bournemouth Council
Poole Council
Chamber Of Commerce
Aruba Restaurant
Orange Rooms
90 Degrees
JP Morgan
Bournemouth Tourism
BIC & O2
Photos of Balloon Doctor
Book Balloon Doctor
Want to book a performer, or just find out more? Give us a call on +44 (0)208 8291140 or use our online contact form via the button below.