Bachante – Wine Tasting Performance | UK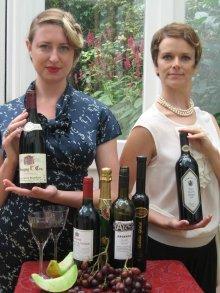 Bachante
'Bachante' offers the sensory experience of wine tasting and wine and food matching in a relaxed, informal, performative atmosphere. Combining useful theory with interactive and practical session in wine tasting, these workshops are both highly enjoyable and educational. Fine wines are an experience, and 'The Right Vintage' enhances this further by providing music from the same region as the wine, and costumes to create a theatrical interactive environment.
Bachante discuss terminology, regions, history, viticulture (climate, soil, etc) and vinification (wine-making) in a deeply relaxed fashion where all questions are welcome! Guests look, smell and taste wines to gain a genuine appreciation and education, that they can apply when choosing wines and matching them with food.
In an installation boudoir, the guests experience is deliciously themed by region and tailored to create a bespoke experience. 'Bachante' creates an elegant atmosphere where guests lounge on Chaise lounges whilst discussing the perfect Burgundy. Flamenco music drifts into the night whilst Spanish grapes feature in the wine list.
Photos of Bachante