Atilla – Flair Bartender | UK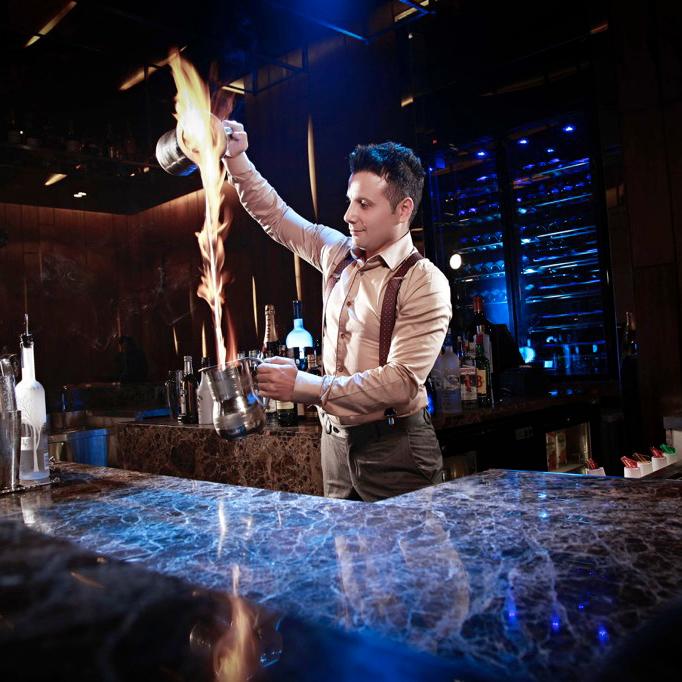 Atilla
In the world of Flair Bartending few have the ability to excite, amaze, and inspire like 4-time European Champion Atilla. The world no. 2 flair bartender has an impressive CV including wins in competitions across the globe and placing second in the Las Vegas World's Greatest Bartenders competition. In 2001 he was featured on the BBC 6 O'clock News in London as he represented the UK at the World Championships in Cuba, and in 2009 he helped bring flair bartending to the mainstream as he wowed the crowds, judges, and viewers at home during a successful run on Britain's Got Talent.
Also known as The Bar Hypnosis, his love of competition is firmly rooted in a love of taking to the stage and performing his art, a love he has nurtured since first stepping behind a bar at the age of 18. He has been known to entertain bar customers at legendary venues such as Rock & Rita's in Las Vegas not only because of his tremendous skill, but also because of the knowledge and passion he shows for the drinks industry.
This knowledge and passion has led Atilla to create a new style of bartending known as 'mixology and flair', breaking down the barriers that usually exist between mixology and flair bartending. He has constantly pushed boundaries, ever since he became the first bartender at the Roadhouse European Challenge in 2001 to flair with four objects.
Standard Length of Performance:
Can perform up to three hours of mixology and working flair and a special flair show is 15 minutes.
Testimonials:
"Attila was really helpful and a great guy to work with!"
– West End Studios
"Atilla is a dedicated, hard-working, yet naturally-gifted performer with a unique style all his own and a cheery, cheeky disposition. I've no doubt that Attila's unique talent would grace the presence of any bar in any country around the world."
– Class Magazine
"Atilla has been an active member in the Flair Bartending community for almost a decade and is still proving every day that he has what it takes to be one of the very best in the world. Atilla has the rare ability to take his incredible skills and use them to make his guests happy at the bar. He is truly one of a kind and any establishment would be lucky to have him on their team."
– Flair Bartenders' Association, Inc.
"As a flair bartender for many years, Atilla has not only accumulated great credentials at the Roadhouse Flair Challenges but has proven his dedication to flair bartending and passion for the industry by consistently supporting each event. His bartending talent is widely acknowledged worldwide and he is applauded by the Roadhouse management team for the way he passes his skills and knowledge to other bartenders who greatly look up to Atilla for experience and professionalism."
– Road House Flair
"Atilla is creative in exploring alternatives and has the determination to get the work done correctly with efficiency. He is an expert in flair bartending with extensive cocktail knowledge and he is a very competent bar manager."
– Orbit Bar Limited
Previous Clients Include:
Barwizards
Redbull
Shark
Bacardi
Midori
Taj Exotica
Amika Club
Movida
Orbit Bar
Marriott Hotels
Center Parks
Photos of Atilla