Astrojet Simulator | UK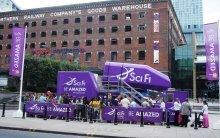 With fantastic point of sale potential and available for hire at short notice on a short or long term basis the Astrojet makes a great addition to indoor exhibitions or outdoor events. With a vast array of simulator experiences from Aircraft to Theme Parks or the very latest computer generated adventures & Roller Coasters and facilities for editing promotional films to suit your needs and budget it is incredibly flexible and can be totally personalised to your event.
The Astrojet simulators unique large capsule size allows comfortable seating for up to 19 passengers and the self contained units are able to operate both indoors and out and can run off their own generated power supply or 3 Phase mains supply with superb digital video incorporating dolby pro logic surround sound. The Astrojet boasts the largest screen of any mobile simulator in the UK by an incredible 20%. It also has a library of 15 experiences covering many themes for all types of audience and a handling capacity 220 per hour.
Options Available Inlude:
Desert Storm - Flight Film
Superstition - Rollercoaster
Haunted Mine - Rollercoaster
Astro Canyon - Rollercoaster
RGB Space Adventure - Star Wars
Colin Mcrae Rally - In car film
Volcano Mine - Rollercoaster
Glacier Run - Rollercoaster
Virtual Time Machine - Adventure through time
Grand Prix raceway - Inside scalextric car
Alton Towers Nemesis - Rollercoaster
Thunderdrive Futuristic Car racing
Timegate Time - Travel through pyramids
Smash Factory - Crazy car ride
Silicon Adventure - Inside a PC.
Simulator Space requirements 14M (40ft) x 6M (16ft).
16ft height
Self powered with generator
Testimonials:
"We would be more than happy to book any of these acts again, they are a great credit to your company and most certainly added much towards creating a vibrant and colourful atmosphere in Batley town centre. Once again thank you and we will hopefully be back for more from you very soon!"
- Batley & Dewsbury Town Centre Management
Photos of Astrojet