Anyone For Tennis? – Comedy Street Show | UK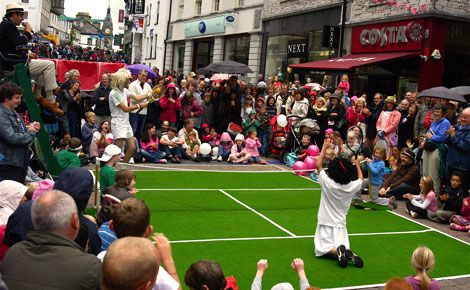 Wimbledon comes to your event in this street theatre act. With a pristine court, dead posh umpire and highly strung player looking to take on all comers. Strawberries and cream not included!
A hilarious but thrilling "one setter" is played out live before an enraptured crowd with all the drama of the real thing including slow motion replays, heated line calls and live commentary.
Members of the audience in full costume play the parts of the challenger, ball boys and girls, physiotherapists, and even royalty for the grand finale trophy presentation.
This is an original fun installation to bring colour, comedy and interaction to festivals, city centres and sporting events.
Standard Length of Performance: 3 x 30 minutes or 2 x 45 minutes per day.
The entire show can be set up or taken down in ten minutes with on site vehicle access and one steward.
The size of the court is adjustable from 3x4m to 4x6m and can be laid and removed in 3 minutes.
Testimonials:
"The best street art always has an element of surprise and an element of the unusual to is - this was no exception. The crowds really appreciated the performances and were very enthusiastic. Highly recommended!"
- Stockholm Water Festival
"Many thanks for your excellent performance. You pulled off a top class show which people are still talking about"
- Private Client
"Thank's for the shows. Loads of great feedback. People thought you were off your trolleys"
- Private Client
".....It was a great event, the team went down a storm, they were very good at reading the audience, and getting people involved – please thank Jem and Ollie for us...."
- Event Planners (via Contraband)
Previous Clients Include:
EXPO Seville
Commonwealth Games
World Student Games
Euro 96
Rolling Stones
Glastonbury Festival
Festimagic
Stockholm festival
Linburg Festival
Tall Ships Race
Edinburgh Festival
G8 Summit
Eurovision Song Contest
Photos of Anyone For Tennis?