Ant – Lord Nelson & Charlie Chaplin Statue | UK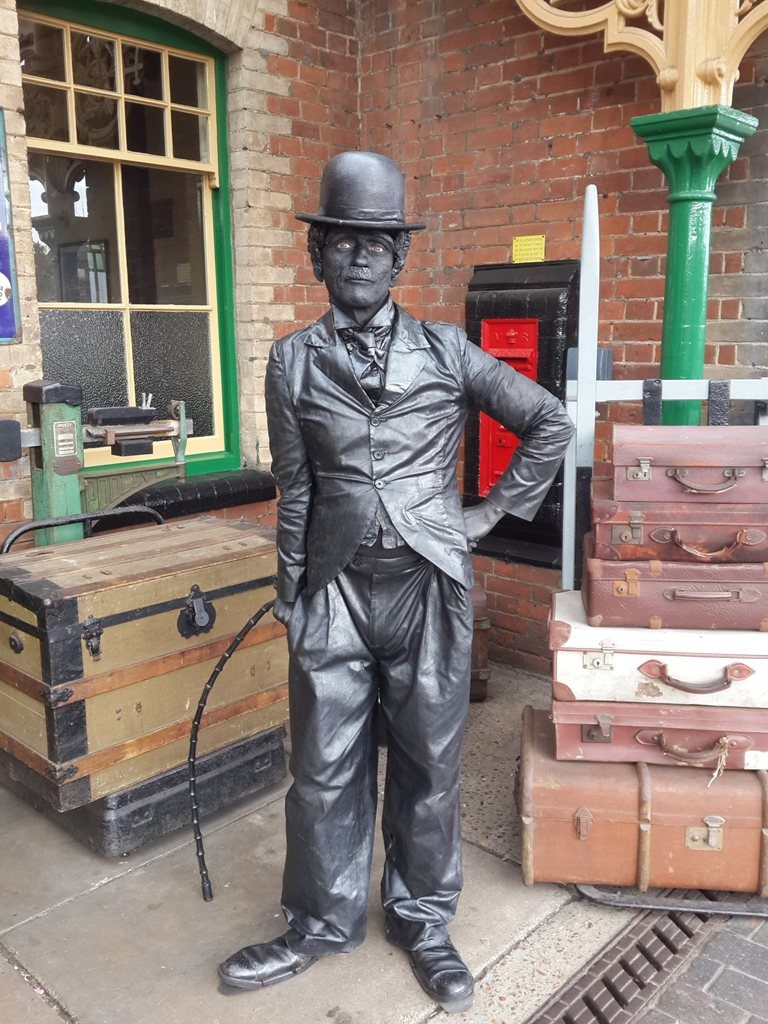 Ant
Charlie Chaplin
Ant's pioneering human Charlie Chaplin statue looks so realistic you might never know he isn't a real statue until he makes you laugh.
Great care has been taken to make Charlie one of the most realistic statues available, even under close inspection he looks like cast iron. His tailor made jacket was constructed after careful examination of the original, even his extra long shoes have been reproduced. The whole costume is the product of a nearly a years work and a perfectionist's love for detail.
The Little Tramp himself would be proud of such a fine statue. It is doubtlessly the closest thing to Charlie Chaplin off the silver screen, and absolutely a living statue like no other.
Lord Nelson
The Admiral Lord Nelson is one of the funniest human statues you're ever likely to see and one of the most convincing too. He's sure to brighten up any event! Just watch as it reduces audience to tears of laughter without deviating from the classic Lord Nelson pose. What's so funny? There's only one way to find out!
Standard Length of Performance: 3 x 60 minute sets.
Testimonials:
"How fantastic it was to have such a professional performer at our wedding, and how thrilled everyone was to see such a funny human statue. We will never be able to look at Nelsons column with a straight face again."
-Private Client
"It was a real pleasure to meet you. We wanted personally to say thank you for your superb performance as Lord Nelson, the Human Statue. The Guests and staff very much enjoyed the experience and thought you were truly outstanding! The guests as well as the organisers said it was the best Chairman's Circle Reception they have had in five years. We will certainly contact you for future events!"
– Private Client
"A man who takes every aspect of his work seriously! Professional and polite and flexible to promoters needs. A real pleasure to have on stage and the wow factor was definitely there. Recommended 100%!"
-Too Damn Glam
"Ant was great today and he did a good job."
– Spear International (via Contraband)
"It went really well thank you and I've got nothing but praise for the Royal Guards and Human Statue. Really professional, and exactly what we were looking for….Also Charlie Chaplain was brilliant he was stationed at the entrance and gave the reception a real wow factor as people came in. Overall very very happy and will certainly bear Contraband Events in mind for any other events which we require entertainers for in future…..Thanks for all your help too."
– IET Services Ltd (via Contraband)
Previous Clients Include:
Toyota
Luminar
Extracare
British Wildflower Plants
Event Production Services
Dance4me
Showtime Events (India)
Casino Rooms (Rochester)
Pure Property
Too Damn Glam
Pams House
Team Spirit
Acting Out Casting
Life Centre (Newcastle)
Arts Sound & Leisure
Flares
Siemens
Pepsico Siemens Pepsico
Photos of Ant