Anne Marie & Stephen – Medieval Music | UK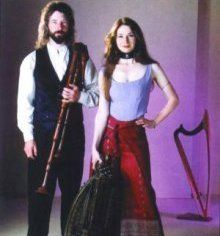 Anne Marie and Stephen have been playing and recording together as a duo for over a decade, taking some of the earliest scored music and combining it with the improvisational element of folk music for an exciting and dynamic performance. They are accomplished multi-instrumentalists, and their wide range of instruments allows them many different sound textures to match the different musical traditions of medieval Europe.
A performance by this duo will take you from the mesmeric drone-based harmonies of their trademark combination of bagpipes and hurdy-gurdy, to the harmonically sparser sound of recorder and citole, as well as to softer timbres such as voice and harp.
They regularly perform at concert venues and early music festivals throughout Britain and Europe and have made various recordings. Originally formed as a duo, they now work regularly with other instrumentalists and singers for a larger ensemble; all are professional and extremely versatile musicians specialising in early music. Workshops are also available in medieval instrumental music, song, and singing for dancing.
Anne Marie and Stephen also appear at churches, castles and halls, heritage sites, storytelling events, historical fairs and other outdoor events throughout the country, complete with medieval clothing and tent.
Photos of Anne Marie & Stephen