An Act Above – Various Stilt Walkers | UK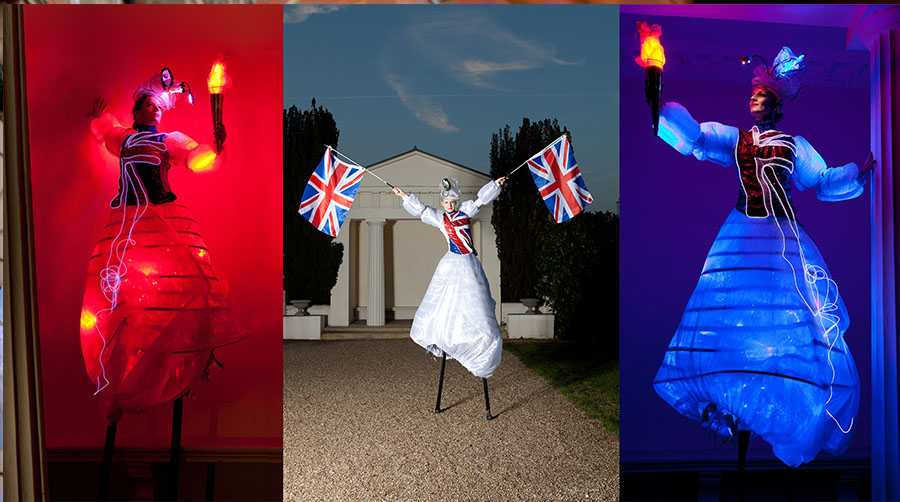 An Act Above use stiltwalkers and aerial skilled performers to create stunning visual spectaculars, indoor theatre pieces and character based walkabout acts.
Acts Available:
Luminous:
The show plays with a delicious combination of colours, music and contemporary movement culminating in a fantastic uplifting flag routine. Not only can the costumes change to whatever colour is desired, different parts of them could be different colours at the same time. The possibilities are endless. A wonderful example of this is the up coming Olympics, the stilt walkers can be in the Olympic Colours with their lights, providing beautiful entertainment for your Olympic themed event. The act is available both as a 7 minute show and walkabout performance. The costumes are also available without the lights for daytime events.
The Red Ensemble:
As a walkabout they are suited to specifically enhancing your event, for example leading processions, lighting up spaces and changing focus. Ribbon twirling, feather blowing or still sculptures with poles can be choreographed into the event. Up to seven performers mesmerise the environment with simple starkly beautiful images in beautiful costumes. These costumes have been recently developed with help from The Circus Space to now have a LED system meaning they have the potential for 16 million colours!!
The Stalkers:
Developed with influences from jazz, yoga and Clockwork Orange, The Stalkers move with slow, sensuous, sculptural power, compelling with their silence and staccato glances.They play with rhythm, focus and stillness and always seem to be up to some mischief, doubtless involving snuffling your food and drink. Enjoyed by all audiences from Singapore to Tuscany.
The Dragons:
Gaudi and Picasso are two bright and colourful walkabout creatures, inspired by the Gaudi Dragons in Barcelona. The lizards leap about being naughty. Beware: they try to get their claws into your food, hair, well anywhere really!
Snow:
Two or four Russian princess come with baskets of snow to add a touch of something white to your event. Perfectly themed for white events, a perfect added touch for the Christmas season. Can be performed at the same event with the snow silks act.
Testimonials:
"You are fabulous!"
– Dame Shirley Bassey at Buckingham Palace
"Just a quick note to say thank you all so much for your hard work at the V&A last Thursday – the client was really delighted with all the entertainment and was thrilled by the show. It's such a pleasure to work with you all and your performances are always so well received by our clients and their guests."
– The Victoria and Albert Museum
 "You were amazing – everyone stopped to watch. Thank you."
– London Symphony Orchestra
"The performance was superb and the feedback has been universally positive"
– Brighton & Hove City Council
"I'd like to say a huge thanks to all the ladies yesterday, they were absolutely fantastic and entertained the crowds brilliantly, if you could pass that on it would be appreciated."
– Private Client
"Just a quick line to say thank you all very much indeed for your patience and hard work on Saturday. Private events – especially ones in private venues – can be challenging, but we've had fabulous feedback; you all did a great job, and looked great in the setting – a perfect enhancement to the space! Thanks again, and I look forward to the next one."
– Bonny Morris, Event Manager
'Luminous was like something beautiful out of a Peter Greenway film'
– Circus Space Cabaret
"Their entrance at the end of the party raised everyone's spirits and got them dancing"
– Dior Representative
"The costumes looked lovely and fitted in perfectly with the atmosphere we were trying to create. Thank you also for being adaptable and proactive"
– Jillie Bushell Associates
"It all went really well and the performers looked great. Thanks again."
– Opus Create Ltd (via Contraband)
"Yes all went well thank you and your performers were fabulous. We would definitely use them again – the crowds loved them…."
– Halogen (via Contraband)
"The guys were great. Really enthusiastic and took instructions on board…..The stilt walkers were really helpful and polite…Thanks again to you and your team."
– Powerhouse Productions (via Contraband)
Previous Clients Include:
Liberty
Nissan
Intel
Dior
Mace
Victoria and Albert Museum
Somerset House
Coca-Cola
Intel
UNICEF Ball
ITV
BBC
Britain's got Talent
Screen Europe
Magic of Persia
Norsk Hydro ASA
Asian Power 100
Kverner
Photos of An Act Above