American Paparazzi Characters | UK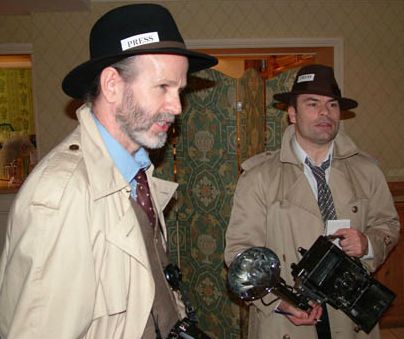 Meet and greet your guests with these amiable & professional American paparazzi characters. These roving reporters with their American accents and flash photography, complete with notepads, dictaphones & a host of cameras will interact with your clients and give your guests the superstar treatment.
They can meet your guests as they leave their limo's, follow them as they step on the red carpet entrance and to the reception area, and then the paparazzi can enter the venue and entertain your guests and their friends at their tables before they settle down for the main event.
Put a smile on the faces of your clients for weeks after their special evening of fun and entertainment!
Length of Performance: The reporters will arrive at least 1 hour before your guests and then take high quality photos in character for a normal duration of 3 or more hours from when guests arrive.
What you get:
All the edited pictures on a dedicated website normally by midday the next day or at the latest within 24 hours. These can be password protected on request.
Instant download facility from the site.
Six months online display time (unless differently arranged)
On screen display at venue if facilities allow
A specially packed & presented 2 pack CD copy of all the pictures with a higher resolution
Storage of copy CD for twelve months.
A selection of individual copies of the original pictures sent by e-mail on your request.
Testimonials:
"The two gentlemen were fantastic. They were really friendly to our customers and more importantly took some great photos. "
– Revolution
"Just want to drop you a note to say how pleased we were with the service provided for our clients event on Sunday night. Everybody really enjoyed the Paps and had such fun posing. The clients were especially happy with the pictures being available on line so quickly. Many thanks! We look forward to working with you again in the future ".
– Splash Events
"Thank you, you made my 40th one to remember forever! You deserve a medal for staying in character that long! Cant thank you enough"
- Private Client
"The birthday was fantastic! The photographer was just so great! So happy!"
- Private Client (via Contraband)
"The evening went very well thank you. The entertainment was appreciated by all! Paparazzi got people in the mood... Many thanks for your help and should we hold a similar event next year I shall be talking to you again!"
- ICS Cool Energy Ltd (via Contraband)
"...fantastic, no complaints at all. Got everyone in the spirit and took loads of pics. Very happy indeed..."
- Private Client (via Contraband)
"Booked two photographers for a private function which I organised and as we had a theme for the night thought these would go well. What a choice we made. They were absolutely fantastic, got into character and made my guests feel like they were super stars. Very professional and polite, though they worked very well and were a terrific addition to the evening much more appealing than the run of the mill photographers. Service they provided was second to none in my opinion, as the photos were ready within 24hrs and the quality of the shots was amazing. Definitely be using them again."
- Private Client (via Contraband)
Photos of American Paparazzi Characters