Amelie – Fortune Teller | UK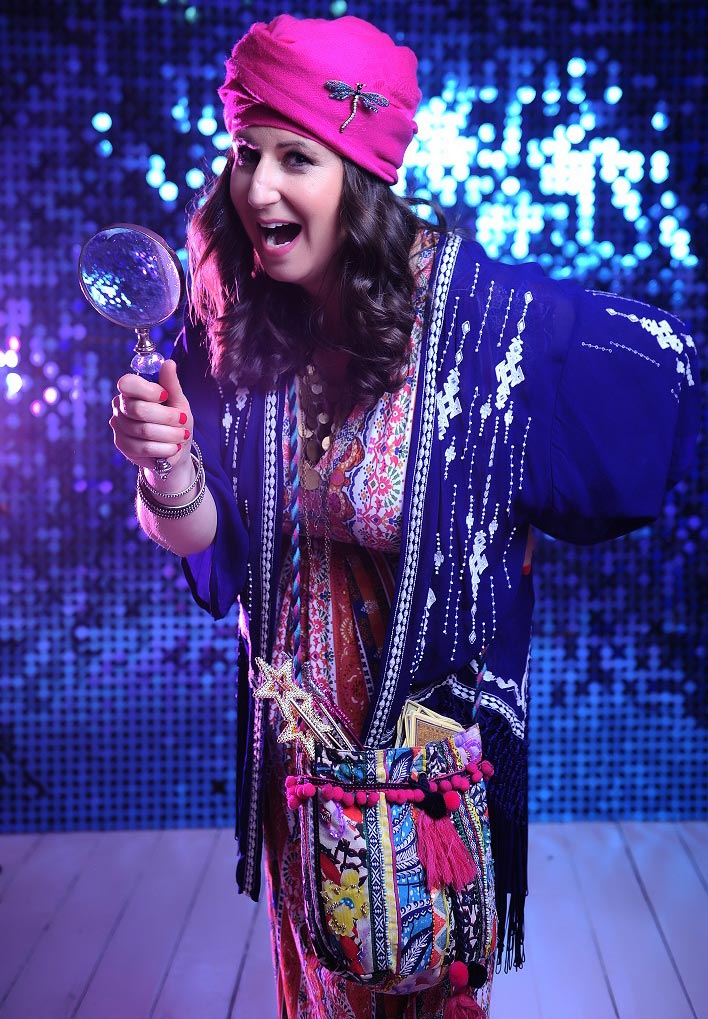 Amelie, a fun fortune teller, entertains with short and sweet palm, tarot or crystal ball readings. She mingles through crowds whilst your guests nibble canapes and sip champagne. She can work her way around dinner tables between courses. You could also seat her to the side and she will provide readings for small groups or one-to-one. For corporate events, Amelie can meet and greet with palm readings on your exhibition stand or as guests arrive at your venue.
Amelie's readings are however long you want them to be (anywhere from 3 minutes and up). Each psychic reading is fun, light-hearted, upbeat and spookily accurate, touching on character, personality, potential, current circumstances and paths to success, leaving your guests with the WOW factor, uplifted and positive.
Amelie is also available for after dinner speeches on the subjects of palmistry, divination, meditation and personal development.
She dresses formally for black tie events. Or, if you prefer, Amelie has a large selection of gypsy, Arabian and mystical costumes which can be tailored to your theme. She is friendly, approachable, presentable, professional, and of course, Amelie is insured & CRB checked.
Testimonials:
"Amelie was fantastic and went down a storm. She worked so hard and I'd like you to personally thank her for this. We'd love to have her back if we do a theme along these lines again. Thanks for all your help too, it's been a pleasure."
– Soundcheck Events
"They keep coming up to me and asking if we gave you character profiles in advance."
– Carluccios
"Have you been listening to our conversations?"
– Madame Tussauds
"She was very complimentary, and smart in her analysis, maybe the mystic has won me over"
– Private Client
"That amazes me how you can know that. I am very impressed."
– WWF
"Amelie was great thanks. She was very popular and was fully booked through the day. Please pass on our thanks."
– Blue Line Events Ltd (via Contraband)
"The night went really well, Amelie our fortune teller was really good, she was busy all night and was spot on with a lot of her readings….. All in all we were very satisfied with the entertainment supplied by yourselves. Thank you very much!"
– Cofunds Ltd (via Contraband)
"Thanks very much for your help with the three acts. Amelie was very popular and received good feedback, I don't think she had too much of a rest!…."
– Allen and Overy LLP (via Contraband)
"…The event was a success and ended up going really well with guests partying right up until the end. Everyone seemed to be having a great time. Amelie was great from what I saw of her and my interaction with her. After the first 30mins (when she was just encouraging people to come over) we did an announcement to let people know the fortune teller was now open. So after that she had a constant stream of interest – and actually I had wanted to go up and have my fortune read, but she turned out to be too in demand! =) So yes really pleased with Amelie…So overall really positive feedback for both of the acts, so thank you so much for liaising and providing these guys for us…"
– Plain Jane Events (via Contraband)
Previous Clients Include:
The Brit Awards
Big Brother/Endemol
The Friday Night Project
Channel Five
BBC Radio One
BBC Five Live (Pienaar's Politics)
BBC Audiobooks
The Guardian
Capital Radio
Disney
Merlin Entertainment
The Ritz
Kensington Palace
Mishcon de Reya
Ascot Racecourse
Ministry of Defence
Hamleys
Eurostar
BT Tower
British Airways
Virgin Atlantic
Victoria and Albert Museum
Home House
Soho House
Shoreditch House
The Saville Club
Blacks Club
Café de Paris
Royal Academy
Natural History Museum
National Gallery
National Theatre
London Dungeons
Madame Tussauds
London Eye
Old Vic Tunnels
The Brewery
Goldman Sachs
New Finance Capital
Eaton Power
Kings College Cambridge
St Cross College, Oxford
Kings College London
Dulwich College
Kings School, Canterbury
Southbank University
Studio Valbonne
Amberley Castle
Tate Modern
Stationer's Hall
Arcadia Group
RAF
Tatler Magazine
Cosmopolitan Magazine
KOKO
Toyota
Vinopolis
Hippodrome
Sanderson Hotel
Grosvenor House Hotel
The Dorchester
Park Lane Hilton
Rivoli Ballroom
Hotel Café Royal
Amazon
Google
Tesla Engineering
Photos of Amelie