Pianist & Composer: Alice T – France & UK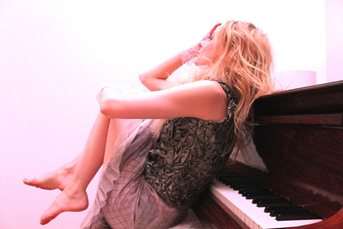 Alice is a classically trained pianist and composer. Influenced by composers such as Philip Glass, Ludovico Einaudi and Michael Nyman, Alice's next-generation modern, minimal classical piano compositions have been broadcast on the radio in 103 countries worldwide.
Alice released her debut album 'Solo Piano' in 2013 and has since gone on to work on a number of interesting and innovative collaboration projects with other notable electronic and ambient artists.
Alice co-wrote, produced and performed on the 2014 EP 'Tragical Minds' with France-based Hip Hop Producer XtronX. Alice also co-wrote and performed piano on the track 'It Ain't Over' with critically acclaimed musician and producer Saul Freeman (Thieves, Mandalay), now to be included on Saul's forthcoming album 'Wait: Speak', due for release in late 2014 on the Vent Sounds record label.
Alice's piano track 'Oak' has been licensed as part of the 'sonic brand' of a major new software platform launched in April 2014.
Alice has embarked upon a series of performances across the UK and Europe to promote her album Solo Piano, including a performance in the legendary Alley Cat Club in London's Soho.
Alice performs classical, minimal and contemporary piano music and is a perfect choice as an entertainer for corporate events, parties, cabaret, conferences, weddings, civil ceremonies, dinners, press conferences, product launches, restaurants, bars and clubs.
Standard length of Performance:
1 x 30 minute sets- up to 3 hours
Testimonials:
Alice's performance was incredible – her presence transformed our event in to a magical occasion that was talked about for many days after'
-Chief Executive, True North Human Capital Ltd.
'Beautiful music from an exceptional pianist – Alice Thompson sparkles in every way!'
-Mrs C Dennis
Repertoire
Alice can perform an extensive range of contemporary classical piano solos along with her own compositions.
Other genres include Classical Jazz, Show Tunes and pop/rock covers.
Photos of Alice T