Ali G , Borat, Bruno & The Dictator – Lookalike | UK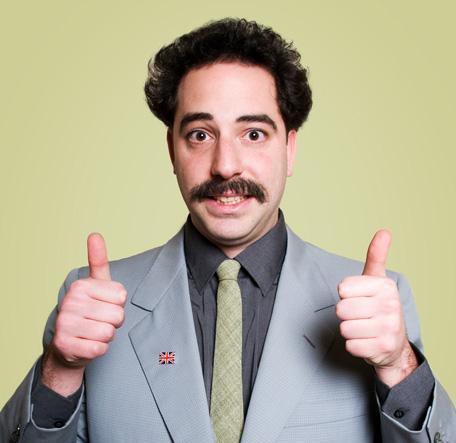 "Ear me now!" Can you imagine booking Ali G for your special event – we can make it happen! We are a booking agent for a fantastic Ali G Lookalike, and can arrange for Lookalike Ali G to perform for your guests. Dani has been an Ali G lookalike for over six years. During this time, he has established an impressive track record of working with celebrities at a wide range of events…
Over the years Dani has been booked to interview a range of celebrities including, amongst others, Ally McCoist, Jo Guest, Nick Leeson and Anthony Wilson (who in particular was completely sold on the idea that he was the real Ali G despite being seated only a yard apart). For scripting any interviews or stand up sets Ali G Lookalike, Dani, has always used his own material, but of course remain consistent to the language of Sacha Baron Cohen's creations.
Dani has also appeared at a range of events with the likes of Dame Edna Everage, Liberty X and Reginald D Hunter, to name but a few, and was showcased as an Ali G lookalike on the first of ITVs Stars and their Doubles a few years ago.
Ali G lookalike, Dani can also be your toast master for the evening, conduct a personalised 5 minute interview between the bride and groom, perform a stand-up routine and perform his own version of the wedding ceremony. For this service he would stay for at least 3 hours.
If you are looking for hilarious and edgy entertainment, we are a booking agent for Ali G lookalike, Dani, and can arrange for Ali G lookalike, Dani, to perform for your guests – contact us to discuss hiring lookalike Ali G for your special event.
Acts Lookalike Available Include:
Ali G Lookalike
The original and still the best, your guests wont believe that it is not the real Ali G. Respect, Aiiight!
Borat Lookalike
Everyone's favourite man from Kazakhstan, just be careful if you invite him to your dinner party, you never know what Borat will do. But you can be sure "its nice".
Bruno Lookalike
The newest character on the block but be sure Lookalike Bruno will amaze your guests with his outrageous behaviour!
The Dictator (Lookalike) also available!
Testimonials:
"Weeks after the event people were still convinced it was the real Ali G... the interview was hilarious and the audience was in stitches... very professional and a fantastic start to the evening."
- The Royal Bank of Scotland Group
""We were so pleased with Danis overall performance and professionalism that we booked him again as Brü-not. He judged the audience well and offered first rate entertainment as the host of our awards evenings."
- Exxon Mobil
"Not only does Dani B bring Ali G to life in looks but also in his voice and attitude. Dani plays him to perfection whilst keeping his performance within the bounds of the audience which in this case was barristers, solicitors, judges etc and all thought we had the real Ali G at as the main act at the presidents charity ball."
- Private Client
"It was absolutely fantastic. Everyone loved it and enjoyed participating in the banter. He never over stepped the mark in terms of content so no-one was offended and everyone just thoroughly enjoyed it.Definitely to be recommended."
- Private Client
"Just to say a huge thank you for Saturday night we have had nothing but praise and superb feedback for your act - Josh has not taken his hat off since! Cant wait to see the video...I hope you enjoyed it too - and we will have no hesitation in recommending you to anyone and everyone!"
- Private Client
"Dan (Ali G.) went down a storm, many people were convinced that he was the real thing right through the evening. He was also a very friendly amenable and flexible guy who certainly went the extra mile to make sure everything went well."
– Cadmium Communications
Previous Clients Include:
Academy For Chief Executives
Adidas
Astra Zenica
Avis
BskyB
Child Action Northwest
Children First
Daily Mirror
DHL
Destination Florida
Emap
Extetica
Exxon Mobil
FHM
Granada Television
Greene King
HBOS PLC
HOB Salons
Intercontinental Hotels Group
Inverness Medical
Israeli Government Tourist Office
ITV
JD Sports
London Weekend Television
Manchester Evening News
Manchester Law Society
Macquarie Bank
Madame Tussauds
Meridian Recruitment
National Car Hire
Paul Raymond Publications
Prestige Medical
Price Waterhouse Cooper
Royal Bank of Scotland
Sky Sports
Trafford Council
Vision
Yellow Pages
Photos of Ali G,Borat,Bruno & The Dictator - Comedy Performer