African: Masai – Drummers & Dancers | UK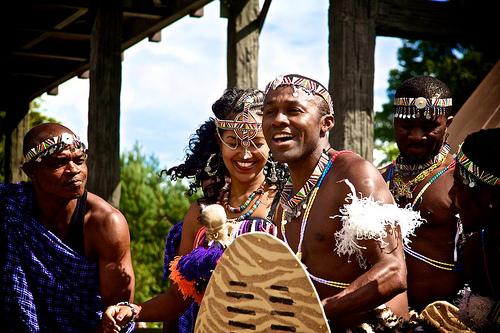 Masai is a UK based African arts company that is the premier provider of a fantastic range of Kenyan arts to a variety of British audiences ranging from corporate and private clients through to community groups and learning institutions.
 
Masai has a group of experienced drummers and dancers. They perform their exciting well-choreographed Kenyan songs like Jambo bwana, Sukuti, Ohangla and Chakacha etc. These performances are interactive and can be tailor-made to suit the client's requirements, the performance can also involve an interactive dance workshop.
 
Technical Specifications:
 
The performers will need a PA, changing room, refreshments and seats for drummers set up prior to performance. The floor of the performance area should be swept and clear as Masai perform bare foot.
 
Standard Length of Performance:
 
The standard length of workshop can range from 1-3 hours.
Testimonials:
 
"Masai gave a fabulous performance at our reception following the Warner bros documentary film, UK premiere for Born to Be Wild 3D at the BFI Imax in 2011. Their vibrant African drumming and dancing greatly contributed to the lively and uplifting atmosphere of the event and we received many comments about how much our guests enjoyed it. If you are looking for exciting African entertainment to give your event an edge, look no further."                              
– The David Sheldrick Wildlife Trust                                                                                                                                    
"Kenya Tourist Board UK has worked with Masai on several occasions and has always been impressed with the level of service provided and authenticity of all their acts. They have done a great deal to help the tourist board promote Kenya in a fun and interactive environment for both the UK travel trade and consumers and their level of professionalism makes them a pleasure to work with."
– Kenya Tourist Board – UK
"It was a great success – everyone loved it. The dancers were fab, and a fantastic surprise for everyone!"
– Speedo International Ltd (via Contraband)
Previous Clients Include:
 
Longleat Safari
Kenya tourist Board
Proctor & Gamble
Saga
BBC One
KAIB
Setur
Arbecombe & Kent
The David Sheldrick Wildlife Trust 
SEGA
Kenya Fest
Photos of Masai