Acro Troupe – Acrobatic Show | UK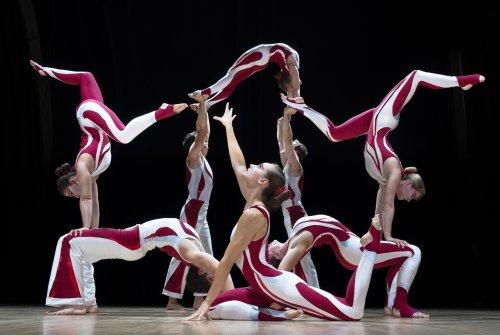 Acro Troupe
The ultimate team to wow your guests! If you want maximum impact at your next event, hire these amazing acrobats for your next event!
The acrobats perform extreme tricks in this gymnastic extravaganza! Daring, high-balances combine with fast & exciting tumbles to display the ultimate acrobatic show for your event.
These ex-gymnasts and sports acrobats are top of their game and performed this routine for the Olympic Torch, Olympic sponsored & corporate events throughout the UK for London 2012, as well as for the Organisers Committee 2012 as their final farewell.
Book this highly specialised and experienced team now to add that wow factor to your event! They can be costumed to suit the following themes:
Black & White; Carnivale; Christmas; Circus; Fantasia; Fairytale; Glamour; Halloween; Heaven & Hell; Moulin Rouge; Sport; Urban Circus; Winter Wonderland.
This act is great for award ceremonies, billboard promotion, corporate events, fashion shows, gala dinners, large spectacles, Christmas light switch-ons, outdoor events, private parties, product launches, publicity stunts, shopping centres, summer events, TV & Film, wedding entertainment.
Celebrate in style with this superb high-energy gymnastic act!
This act can be booked with 2 – 10 acrobats, with 2 – 5 female acrobats available.
Standard Length of Performance:
The main stage act lasts for 5-6 minutes.
The ambient sets last for approximately 20 minutes. The acrobats can also perform walkabout and meet and greet.
Testimonials:
"They were superstars!  The gymnasts were amazing… incredibly easy to work with… No fuss, took care of themselves & put on a stunning show."
– Serco Events for Olympic Organisers Committee (via Contraband)
"They were AMAZING!!!! Un-believable! And so lovely to work with. Seriously, they were fantastic."
– Sheil Entertainment Agency for Olympics sponsors Craft
"Thanks for all your support last night – The performers were well received and their routine really fitted with the theme and feel of the evening. Not only that, I was amazed by their strength!"
– Aston Villa Football Club
"You guys were perfect! I highly recommend this team as they're punctual, very professional & passionate, and I can assure it is a real pleasure."
– Absolute Vodka, Morocco
"Absolutely fantastic and helped to make the event such a success. We had lots of great feedback from our partners who thought they were great. Pure entertainment!"
– Marketing Cheshire
"Absolutely fantastic, incredibly professional, flexible and accommodating… the audience enjoyed the entertainment immensely!"
– Arab Chamber of Commerce
"They were brilliant. Really really good. Worked really well with our VP and the performance went really well."
– Arthrocare UK Ltd (via Contraband)
Previous Clients Include:
Airbus
Audi A1 Launch
Avon
Bank of Scotland
BMW
Commonwealth Games, Manchester
Diana Tribute, Wembley Stadium
Honda
House of Fraser
LandRover
London Boat Show
McLaren
Mercedes
National Theatre
Red Bull
Remington
Royal Albert Hall, Carmen
Royal Mail
Sourz
Superdrug
Swarovski
T Mobile
Victoria Square, Belfast
Walkers Crisps
Wrigleys
Four Seasons Hotel
Bangkok Motor Show
Dubai Shopping Festival
Macau Fisherman's Wharf
White Circus
Absolut Vodka
Mansion Hotel
BP
Skyper Awards
Abu Dhabi Golf Tour
The Peak, HK
Smirnoff
Raffles Hotel
Thomas Cook
Dubai World Cup Horse Race
Eid Festival
Diageo
Womad Festival
Cirkus Princessan
Paradise Park Bangkok
Langham Place, HK
Brussels City Council
MTV
Walking for Elephants
BBC 1
Chevrolet
Elle Magazine
ITV
Disney Channel
Channel 4
CBBC
Photos of Acro Troupe