The Acoustic Duo – Guitarists | UK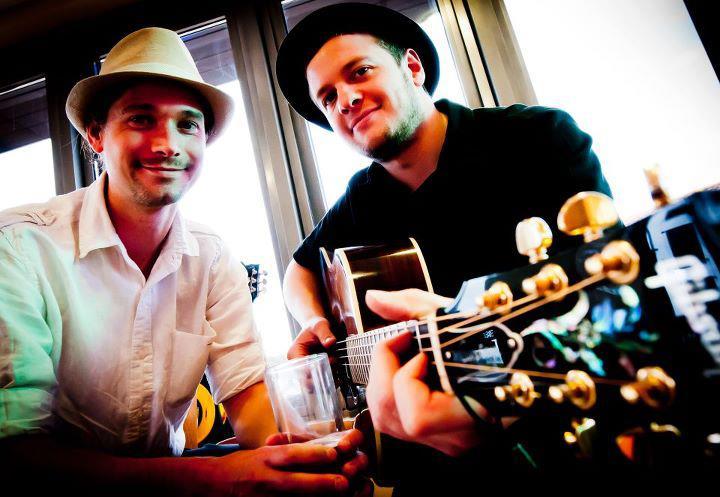 The Acoustic Duo
The Acoustic Duo are a professional acoustic covers act with many years of experience on the wedding, corporate and function circuit in Bristol, Bath, the South West and further afield. The duo are impressing audiences across the country with their unique take on rock and pop classics such as The Cure's 'Friday I'm In Love' or Norman Greenbaum's 'Spirit In The Sky'.
Their quality acoustic set also takes in 80's pop-rock like Michael Jackson's 'Leave Me Alone' and Bon Jovi's 'You Give Love A Bad Name', as well recent alt-rock hits like The Killer's 'Human', complemented by selections of a more laid-back vibe including faithful renditions of Beatles and Beach Boys standards.
The Acoustic Duo have a large and varied repertoire of popular songs, delivered with skilled guitar interplay. The Acoustic Duo's twin acoustic guitar sound and vocal harmonies are ideal for a wedding or birthday party. They are equally suited to a two hour party performance or an intimate after dinner session.
The duo is made up of Alfie, a singer/songwriter with airplay on BBC Radio 2, and Chris Webb, a talented young musician who recently released his first EP on the back of a well-received performance at the nationally famous Bristol Harbour Festival.
Whatever the reason for hiring a live band you can count on the versatility of the duo's sound and on their professionalism. The duo provide their own quality P.A. system, engineering and lighting rig, as well as a comprehensive and tailored DJ service playing a mix of classic songs from over the decades through to the present day.
Repertoire:
60s
Beach Boys – Then I Kissed Her
Beatles – Here Comes The Sun
Beatles – Hide Your Love Away
Beatles – Drive My Car
Beatles – Norwegian Wood
Cat Stevens – Wild World
Norman Greenbaum – Spirit In The Sky
Rolling Stones – Jumpin' Jack Flash
Shocking Blue – Venus
Simon & Garfunkle – Mrs Robinson
Van Morrison – Brown Eyed Girl
70s
America – Horse With No Name
Bee Gees – You Should Be Dancing
Bread – Everything I Own
David Bowie – Man Who Sold the World
David Bowie – Ziggy Stardust
Bob Dylan – Knocking On Heavens Door
The Faces – Ooh La La
John Lennon – Imagine (Instrumental)
Joni Mitchell – Big Yellow Taxi
Lynyrd Skynyrd – Free Bird
Stealers Wheel – Stuck In the Middle with You
T-Rex – 20th Century Boy
The Who – The Seeker
Undertones – Teenage Kicks
80s
Bon Jovi – You Give Love A Bad Name
Bryan Adams – Summer Of 69
Guns 'N' Roses – Sweet Child O' Mine
Jam – Thats Entertainment
Jam – Town Called Malice
Madness – It Must Be Love
Michael Jackson – Leave Me Alone
Neil Young – Keep On Rockin'In the Free World
Poison – Every Rose Has It's Thorn
R.E.M – The One I Love
Skid Row – 18 & Life
Soft Cell – Tainted Love
Tom Petty – Free Fallin'
90s
Aerosmith – Pink
Blondie – Maria
Blur – Charmless Man
Calling – Wherever You Will Go
Connells – 74-75
Counting Crows – Hard Candy
Cure – Friday I'm In Love
Del Amitri – Nothing Ever Happens
Four Non Blondes – What's Up?
Green Day – Good Riddance (Time of Your Life)
Guns N' Roses – Don't Cry
Guns N' Roses – Yesterdays
Hootie & The Blowfish – Las Vegas Nights
James – Sit Down
Joan Osbourne – What If God Was One of Us?
Metallica – Nothing Else Matters (Instrumental)
Nirvana – About A Girl
Oasis – Whatever
Placebo – Slave to the Wage
Red Hot Chili Peppers – Zephyr Song
R.E.M – Losing My Religion
Robbie Williams – Angels (Instrumental)
Santana – Smooth
Snow Patrol – Chasing Cars
Suede – Animal Nitrate
Travis – Writing To Reach You
Therapy? – Die Laughing
Toploader – Dancing In the Moonlight
00s
Gotye – Somebody That I Used To Know
Kaiser Chiefs – I Predict A Riot
Killers – Mr Brightside
Killers – Human
Kings Of Leon – Use Somebody
Santana – Smooth
Sugababes – Overload
Zutons – Valerie
Standard Length of Performance:
The Acoustic Duo can perform for up to 3 hours.
Testimonials:
"The Acoustic Duo played a live acoustic set and provided a DJ service at our wedding on August 21st, 2010. They were extremely professional, both in the lead up to the day and on the day itself. This is despite having to work with us remotely in Dubai via email to organise things and then enduring some pretty horrendous weather during set up on the day. The Acoustic Duo made the effort to find out what kind of music we liked and did a great job both playing a live set (their version of The Killers – Mr. Brightside, learned especially for our first dance, was fantastic), and providing an excellent mix of tunes later on in the DJ set. The Acoustic Duo were professional, prompt and personable throughout and I would definitely recommend them to others looking for talented musicians for an event. Many thanks for helping make our big day so special."
– Private Client
"Top acoustic act. Two contrasting personalities combine to give you a fantastic and entertaining evening out."
– Bristol Rock
"When The Acoustic Duo turn up, you know you're going to have a good night. The simplicity of their arrangement, the skill of delivery, the choice of material and the quality of their sound leave most other acoustic duos in the dirt. You can't beat a bit of Bristol stage-banter either!"
– The Selkirk
"The Acoustic Duo are a fantastic acoustic act. Our Cricket Club booked them for a dinner and dance and the guys did a brilliant acoustic set – lots of well-known covers, older ones for the wrinklies and plenty of new stuff for the kids. They followed that with a DJ session as we danced the night away. Looking forward to seeing the duo again very soon."
– The Old Down Cricket Club
"This duo offer a superb range of cover versions which will appeal to all ages. With a highly polished quality of performance,The Acoustic Duo will guarantee you a wonderful night of music."
– Whimsical Records
"The Acoustic Duo played a great mixture of music and kept us happy and dancing! Everyone enjoyed them and we would book them again in the future."
– Aston and Fincher
"The duo were excellent. They provided fantastic live music and were then very happy to provide a disco later on in the evening. They were really good at providing the correct atmosphere and we have had some really good feedback. I would definitely recommend them."
– Private Client
"A brilliant choice of band to have at our mini festival, the quality of music, the entertainment value and professionalism all came through. All our guests enjoyed the music and we would definitely use them again!"
– Aston and Fincher
"The duo were very professional and arrived punctually and smartly dressed. It was a great day for the store and the duo played for twelve hours over two days, receiving many compliments from our customers. I would certainly recommend them as a talented professional set-up who can adapt their set and style to play anywhere."
– Marks & Spencer
"We wanted to thank you for the fantastic performance at our wedding at the Larmer Tree Gardens. You were extremely pleasant to deal with and instantly on speaking to you about the booking I felt really pleased about our decision to book your duo. I really hope you both enjoyed playing on the stage, we had so many comments from guests who loved your set, it was perfect for what we imagined. Thank you again for making our day so special. We both really enjoy our music and love live music so it was such an important thing to find a band who could make the most of the venue. You really did, so thank you."
– Private Client
"I have received so many great comments about the party. Everything went well, the venue, the food and especially the music, even my very trendy sons thought you did a fantastic job. I couldn't believe it when you said it was 12:30, the evening went so quickly."
– Private Client
Previous Clients Include:
Marks & Spencers
Barclays Bank
Bristol Zoo
Aston & Fincher
Colston Hall, Town & Country Club
Alive Network
Warble Entertainments
MSM Music
Function Central
Photos of The Acoustic Duo