Street Parade Walkabout Characters: Abyss – France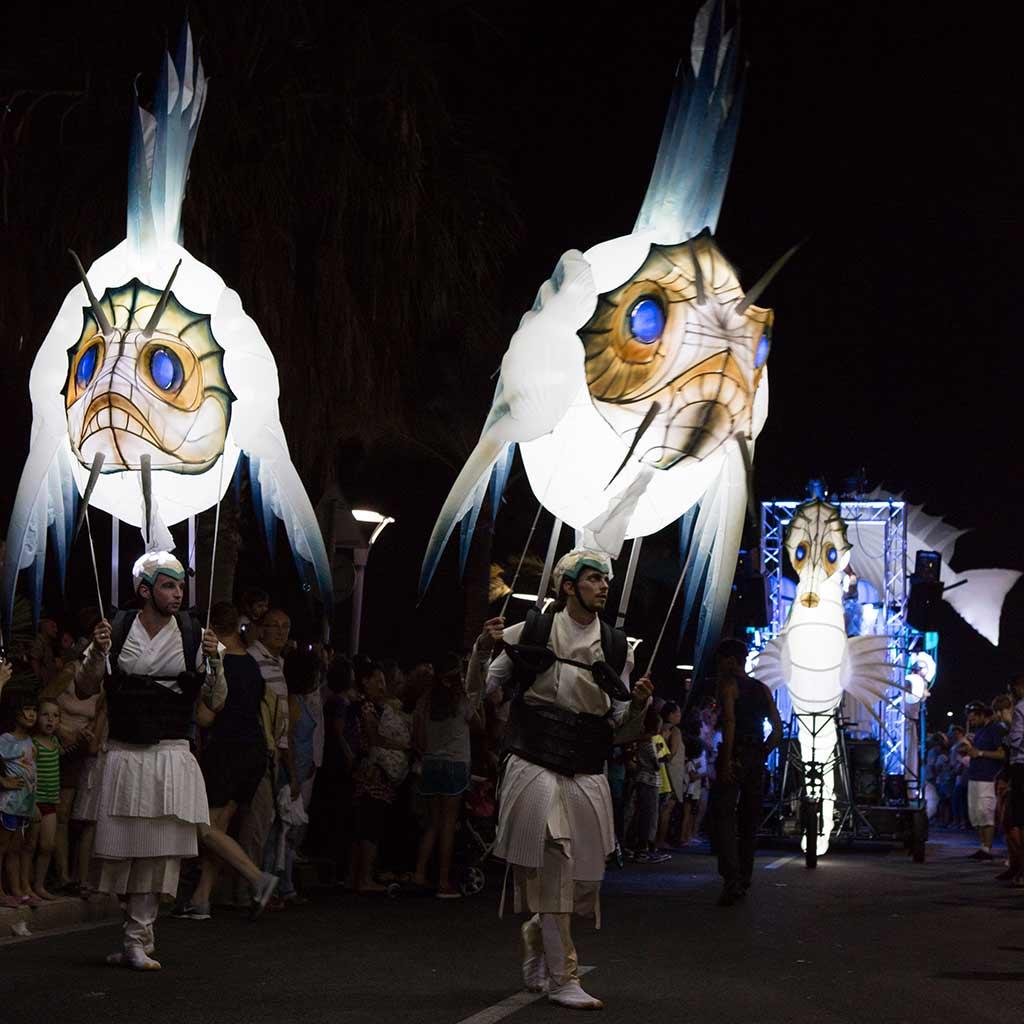 Abyss
Dive into the Abyss, a fascinating world lost into the depth far beyond our reach. Completely overwhelming, it's the biggest habitat on our planet, sheltering a dark but bright marine life. Abyss is an illuminated street parade and they are available to hire for corporate parties, balls, product launch parties, film premieres, anniversaries and weddings. Whatever the event may be, Abyss will leave your guests amazed with their dazzling costumes and foot-tapping music.

An impressive light parade moves through the night, carried by the rhythms of the Taikos and by electro sounds. Accompanied by some Sea Devils on stilts, a jellyfish Milky Way, sparkling stars and a majestic seahorse gather together, proudly leading the Oceanis float. Comet-like fishes handled by bold puppeteers complete this patchwork.

This marine constellation flows like a moving wave through the streets. A light painting where the sky and the sea are coming upside down. This performance is fascinating.

The various characters and costumes include,
The Seahorse : illuminated and inflated articulated machine, ridden by an actor, tows the float
Oceanis: Central Point Motorized and articulated structure – integrated sound system – aquatic lights
The Dancers : 3 dancers, equipped with illuminated fans
The Musicians : 1 DJ – 3 Japanese drums – electro Pop Fusion music
The Sea Devils : 2 illuminated acrobats on stilts
The Lion Fishes : 2 puppeteers manipulating giant inflated and illuminated puppets
The Flying fish : 1 puppeteer manipulating a huge illuminated helium-filled volume
The Jellyfish Carriers : illuminated jellyfish of 80 cm diameter carried by some actors of the city, up to 10 persons (integration of a team from the city in the show – staging by our choreographer)

Abyss is a show offering several atmospheres:
Parade full version: 13 artists and 2 technicians, or 15 persons (10 city actors – jellyfish carriers)
Parade short version: 9 artists and 1 technician, or 10 persons (5 to 10 city actors – jellyfish carriers)

Standard Length Of Performance:
90 min Parade or 2 x 45 min sets

Technical Specifications:
Music: 4 live musicians, with sound system – 1 DJ – 3 Japanese drums
Technical effects: Sound and lights – provided by the company

Photos of Abyss
Book Abyss
Want to book a performer, or just find out more? Give us a call on +44 (0)208 8291140 or use our online contact form via the button below.