Megumi – Japanese Calligraphy Artist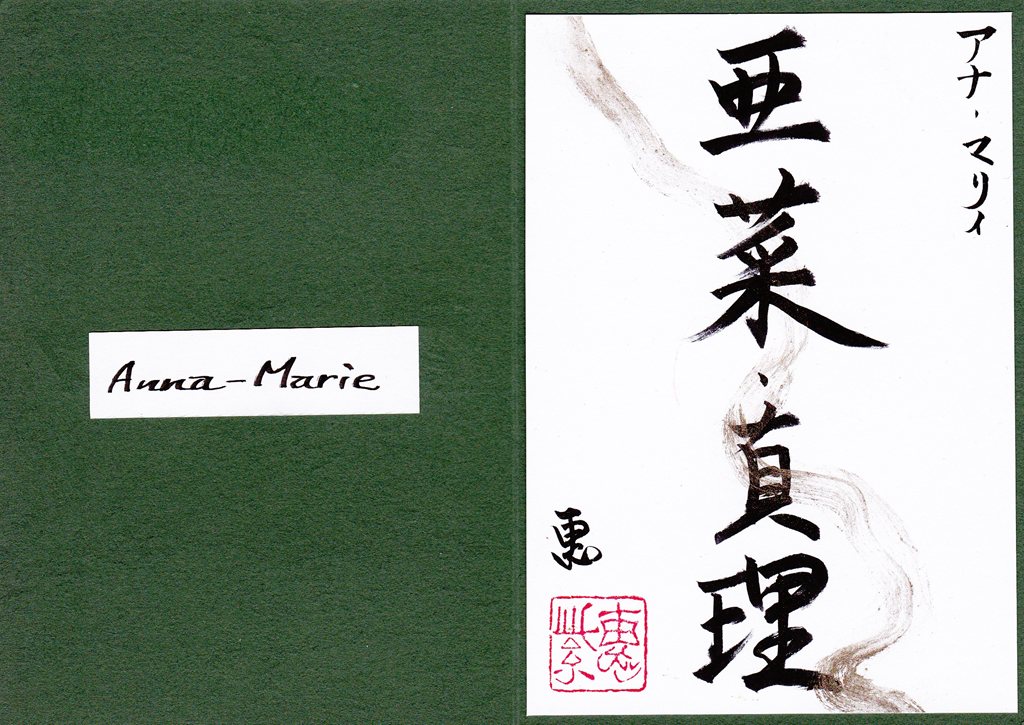 The beauty and simplicity of Japanese calligraphy is a true eye-catcher. An ideal corporate gift for your clients to receive is a handcrafted bookmarker with their name written on it in Japanese characters (kanji). Megumi is able to translate a name and using a black brush-tip pen, write it onto a white/gold speckled card bookmarker which is adorned with a short length of golden ribbon (the colour gold representing royalty, strength and wealth) and a red kanji stamp of her name (which means blessing). The meaning of the client's name is written onto the back of the bookmarker. For example, the name James means, nurturing a dream of prosperity.
Place markers need not be the same tired old white card. Why not make something truly unique that will be a lasting souvenir for the family or guests. Or commemorate an anniversary, birthday or wedding with a sentiment that you invent and Megumi will deliver a unique gift from Japan. Calligraphy is an extremely clean and self-contained presentation, therefore making it ideal for any sort of occasion. Besides calligraphy, Megumi is a highly qualified silhouette artist, designer and illustrator. She has designed for a wide range of purposes from advertisements, displays, exhibitions, and promotional videos.
Standard Length of Performance:
The standard length of performance is 3-4 hours.
Testimonials:
"It went really well thank you! I've had nothing but positive feedback about the entertainers so thank you so much for your help with this. "
- Film London
Megumi is a Japanese calligraphy artist in Sussex, perfect for wedding entertainment, private parties, university entertainment, exhibition stand entertainment, themed party entertainment, workshop entertainment, conference entertainment, PR stunt entertainment.
Photos of Megumi
Book Megumi
Want to book a performer, or just find out more? Give us a call on +44 (0)208 8291140 or use our online contact form via the button below.