Electric String Quartet: Siren – Int.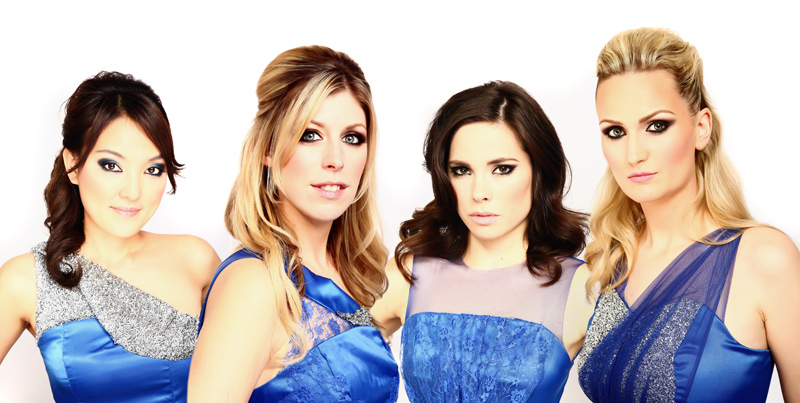 Siren are a unique, energetic and dynamic female string quartet featuring four of London's top string players. Graduates of the Royal Academy and Royal College of Music in London, Siren have been in demand in countries throughout the world including performances of their electric crossover show as the headline act in Germany, France, Ireland, Spain, Portugal, the UK and Dubai. Siren also sing, making them extremely unique as a quartet.
Through their electric show and acoustic background sets Siren can perform a wide range of music from classical to jazz and film/musicals to pop. The girls would love to hear your suggestions, and are happy to tailor their act to suit your event as much as possible. They also have a lovely arrangement of a Bond medley to perform for James Bond themed events which will certainly get your audience's toe's tapping!
Siren's four glamourous members have been busy performing with artists such as Lana Del Rey, Emile Sande, Leona Lewis, Paloma Faith, up coming star John Newman and the fabulous Rod Stewart! They have also shared a stage with Olly Murs, Katie Melua, Andrea Bocelli and Katherine Jenkins and can often be seen on television shows and at live stage events.
The girls have also performed their show at Wembley Stadium, Ricoh Arena, Liverpool Arena and Cardiff International Arena and the opening and closing shows for the Professional European Golf Championships on the Island of Cheju in South Korea. They have also been the support act to Rod Stewart, Natalie Imbruglia, performed at the Excite Awards supporting Girls Aloud, the La Dolce Vita Ball in London supporting Javine and Billy Ocean and at ICC in Birmingham sharing the headline slot with Myleene Klass. They have featured on many TV shows including BBC1's Later With Jools Holland, Jonathan Ross, Live At Abbey Road, Channel 4's T4 Special and BBC Radio 1.
Siren were the featured string quartet on two European tours with Gnarls Barkley and appeared with the band for a record of 9 weeks in a row, on the legendary Top of the Pops with their number 1 hit Crazy. They have also performed with P Diddy at Wembley Stadium, with Alfie Boe on Parkinson, Mika at Brixton Academy, Mutya, Michael Buble and Hard Fi, featured as the strings in Mark Ronson's video Valerie and recorded with the Brand New Heavies. Siren have also completed a European tour as part of Simply Red's string section and performed in all of the major venues in the UK and much of Europe. Siren have been a regular feature in the UK press over the last few years including 3 appearances in NME magazine. They have worked as backing vocalists for Alison Moyet on tour. Their voices have also appeared on adverts for Nokia and Specsavers and have worked with producers Rose and Foster (S Club, Kylie) and Richard Taylor.
Siren have recently updated their highly acclaimed stage show with some exciting new tracks and choreography. They have worked with renowned director/choreographer David Wood to take the show to the next level. David has worked with the likes of Kylie Minogue, Diana Ross, Sophie Ellis Bexter, Holly Valance, Boyzone, Lionel Ritchie and the Spice Girls.
In 2011, Siren supported Beverley Knight at The Royal Opera House, and performed live with Adele at the Hammersmith Apollo and The Royal Albert Hall. They also performed with Beyonce for her Christmas special and just filmed another Christmas special with Michael Buble. They can also be heard playing on Noel Gallagher's new album.
Siren were broadcast live to over 20 countries worldwide whilst performing on the London Eye in Sept 2011 with DJ Benji B. They performed once again as the headline act, accompanied by The Manchester Camerata Orchestra at Manchester GMex Arena and as the headline act onboard the luxury Seaborn Sojourn Ship.
Shows Available:
Main Stage Show
The main stage show is on electric instruments with backing tracks. Siren can perform as little as one song if required. The music they perform is a mix of classical crossover, jazz, pop and Celtic (example tracks are: Palladio, Viva, Sway, Fever, A fifth of Beethoven, Joy of Life, Sabre Dance, Explosive). Please note that there is a surprise vocal track in the middle of the set). This stage show is 20 minutes.
Background Set – Electric Instruments
Siren can also perform background music set on electric instruments. This can be for up to 2 x 45 minute sets and the music performed is classical, jazz, pop and rock. Please note Siren have an in house arranger who can arrange any piece of music for your clients.
Background Set – Acoustic Instruments
Siren can also perform background music set on acoustic instruments. This can be for up to 3 x 45 minute sets and the music is classical, jazz, pop and rock.
Background and Stage Show
Siren can also perform up to 1 x 60 minute background music set followed by the stage show. This can be on acoustic or electric instruments.
Siren normally stand up to perform their background music sets and can roam around (with the exception of the cellist).
Siren also have a vast repertoire of Christmas music that always proves to be popular with clients during the festive season.
Testimonials:
"The fabulous Siren"
– Mail On Sunday
"…the ultra-funky Siren string quartet..'
– CD Times
".. the four-piece NUTS philharmonic stamping in high-heels and beating the sky with their electric green violas"
– NME Magazine
"Gnarls Barkley's string section look particularly fine, St Trinian's style, even managing to perform perfectly synchronised dance routines from their seats, shimmying with their bows.."
– Guardian
"…a string quartet who start demure and soon turn demented.."
– Mail On Sunday
"..they punch the air with their bows and perform formation seated dances when they're not playing flourishes.."
– Observer
"You were all truly sensational on Friday night. It was a treat to have you there. The setting worked just perfectly for you with the mirror panels and swathes of fabric. The music was infectious and hugely dramatic. I know all the guests loved it and set the standard superbly high for Rod to follow. He didn't disappoint but for the difference in fee, you were real value for money!!! We were inspired by Escala, but feel we fell upon gold in discovering you, I really hope that lots of other people strike lucky, I just can't imagine what more anyone could offer – 4 stunning girls, hugely talented and who looked like they were enjoying themselves as much as the guests. Thank you so much for what was an enormous and much talked about contribution to the evening"
– Rod Stewart Concert
"Can I just say the girls were simply superb in the evening. I had so many comments from my clients the following day. It was an awards event and adding Siren really did make it a special evening for the award winners. Thank you! For anyone that has not used Siren I would strongly recommend it!!"
– The Home Office
"The girls were great – very entertaining and really well received by all our attendees – we particularly liked it when combined with the solo singer the song before the big final. Many thanks to you as well for your speedy assistance and suggestions!"
– The Brewery on Chiswell Street (via Contraband)
"They were perfect!…The client was very happy with their performance and the ladies were lovely to work with. Really very very good and would love to have the quartet at an event some time!"
– Brainstorm Communications Ltd (via Contraband)
"Yes I was very pleased with Siren and the digital paparazzi. Siren were brilliant, I loved them and they got everyone's attention…"
– Faversham House Limited (via Contraband)
Previous Clients Include:
Formula 1 (Autosports Awards)
The World Retail Awards
Chivas Brothers
Toshiba
Lloyds Pharmacy
Porsche
Deutsche Bank
Lehman Brothers
Make a Wish Foundation
HSBC
Ballantines
Iceland (supporting Girls Aloud)
La Dolce Vita (supporting Jamelia and Billy Ocean)
The Home Office
NHS
Harrods
Akvinta Vodka
Poggenpohl Kitchens
Tui Holidays
Shell UK
BP
Gala Casinos
HQ Creative
Tatler
Cafe de Paris
Kanye West
Gorillaz
Jay-Z
Take That
Dame Shirley Bassey
Sir Yehudi Menuhin
Sir Colin Davies
Maxim Vengerov
Vladimir Ashkenazy
BBC Symphony Orchestra
London Symphony Orchestra
London Metropolitan Orchestra
Ulster Orchestra
Royal Albert Hall
Queen Elizabeth Hall
Royal Festival Hall
The Barbican
Repertoire Includes:
Classical
Divertimenti – Mozart
Eine Kleine Nacht Musik – Mozart
Brandenburg Concerto's – Bach
Double Violin Concerto – Bach
Chanson de Matin – Elgar
Chanson de Nuit – Elgar
Salut d'Amour – Elgar
Pavane – Faure
Arrival of the Queen of Sheba – Handel
Meditation – Massenet
Blue Danube Waltz – Strauss
Wedding Day at Troldhaugen – Grieg
Vocalise – Rachmaninoff
Humoresque – Dvorak
Minuet – Boccherini
Danse des Merlitons – Tchaikovsky
Barcarolle – Offenbach
Prelude to Carmen – Bizet
Waltz from Op.12 – Grieg
Air on a G string – Bach
Canon – Palchabel
Slavonic Dance no. III – Dvorak
Rondo alla Turca – Mozart
Traumerei – Schumann
Grande Valse Brilliante – Chopin
Norwegian Dance No's 2 and 3 – Greig
Pizzicato Polka – Strauss
Trumpet Voluntary – Jeremiah Clarke
Bourree – Handel
Two Rondeau – Purcell
Waltz of the Flowers – Tchaikovsky
Flower Duet – Delibes
O Sole Mio – Rinaldo di Capua
First Polotsvian Dance – Borodin
Hornpipe from the Water Music by Handel
Wedding March – Wagner
Entrance of the Queen of Sheba – Handel
Rondeau – Mouret
Ave Maria – Schubert
Jesu Joy of Man's Desiring – Bach
Largo from 'Winter' – Vivaldi
Wedding March – Mendelssohn
Jazz/Popular
Anything Goes – Cole Porter
Pennies from Heaven – Arthur Johnson
Everytime we say Goodbye – Cole Porter
Tango – Isaac Albeniz
Leaning on a Lampost – Noel Gay
A Nightingale Sang in Berkeley Square – Manning Sherwin
Maria – Bernstein
Making Whoopie – Walter Donaldson
Funiculi Funicula – Luigi Denza
Three Little Maids – From the Mikado – Arthur Sullivan
Moonlight in Vermont – Karl Suessdorf
Let's do it – Cole Porter
My Funny Valentine – Richard Rodgers
Ragtime Dance – Scott Joplin
New York New York – Bernstein
I've Got Rhythm – Gershwin
Someone to watch over me – Gershwin
The Girl from Ipanema
Fly me to the moon
Satin Doll
Take the 'A' Train
World without Love – The Beatles
Good Day Sunshine – The Beatles
Hey Jude – The Beatles
Yesterday – The Beatles
Get Back – The Beatles
Michelle – The Beatles
I feel fine – The Beatles
Norwegian Wood – The Beatles
Strawberry Fields Forever – The Beatles
Eight Days a Week – The Beatles
All you need is Love – The Beatles
Eleanor Rigby – The Beatles
Rock
Black dog – Led Zeppelin
Born to be wild – Status Quo
Sweet dreams are made of this – Annie Lennox
Bohemian Rhapsody – Queen
A whiter shade of pale – The Shadows
Kashmir – Led Zeppelin
Live and let die – Paul McCartney
I will survive – Gloria Gaynor
Purple Haze – Jimi Hendrix
Layla – Eric Clapton
Stairway to heaven – Led Zeppelin
Satisfaction – The Rolling Stones
Crazy – Gnarls Barkley
Gone Daddy Gone – Gnarls Barkley
Ruby Ruby Ruby – Kaiser Chiefs
Viva la vida – Coldplay
One day like this – Elbow
Siren Show Tracks
Storm by Bond electric quartet – Summer from the 4 seasons remix
Viva by Bond electric quartet – Winter from the 4 seasons remix
Fever by Peggy Lee – microphones required
A fifth of Beethoven – From Saturday Night Fever
Explosive by Bond electric quartet -unique arrangement by Siren
Joy of life – The Corrs
Shine – Bond electric quartet
Kiss kiss – Holly Valance
Toss the Feathers – The Corrs
Palladio – Karl Jenkins
Don't stop til you get enough – Michael Jackson
Photos of Siren