Boogie Party Band: Red Stripe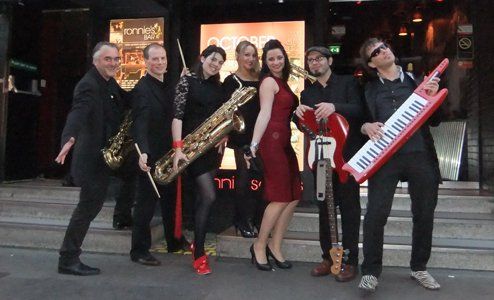 Red Stripe has developed a truly international reputation after over twenty years of playing all over the world from New York to Monte Carlo and from Tokyo to Milan. They have developed a great show with a powerful musical base backed by a strong line up with leader Neil feeling most at home sitting behind his piano.
Corporate clients include Barclays, Microsoft, Toyota and HSBC and they have taken their show to conferences and events including most recently the NEC arena for an audience of 6,000.
Neil has shared a stage with James Brown, Chris Barber, John Martyn, Glen Tilbrook (Squeeze), Rupert Black (Pretenders ), Eddi Reader of Fairground Attraction, the Pasadena Roof Orchestra and countless more.
He plays a unique blend of rock'n'roll, boogie-woogie and energetic jive with a band, which can be tailored to fit any occasion!
Standard Length of Performance: 
2 x 45 minute sets.
Testimonials:
"As always, we were delighted with the Red Stripe Band's performances at Marlborough Jazz 2005 and hope that you will be with us in 2006…I think that this year's Marlborough Jazz was the best occasion yet, exceeding even last year's splendid weekend. Thanks for your help in making it such a success."
– Marlborough International Jazz Festival
"I wanted to write and say "thanks" to the band for playing at our wedding reception. I received several very complimentary comments from my guests … really made the evening go with a swing. Can you pass on my thanks to all the guys!"
– Private Client
"A big thank-you for playing at our party. You had many compliments from our guests and everyone enjoyed it hugely. The music was perfect for the occasion and we were pleased that we were able to have pretty much the entire party outdoors……Thanks also for setting up so efficiently and for being so co-operative with the boat staff, who were all really impressed with you (I think they'd like to recommend you for future functions, if you're interested)."
– Private Client
"Just a quick word of thanks to the band for making the Kleeneze conference go with a bang! We received several positive comments from the production crew at the NEC – thanks for all your efforts "
– Top Entertainments
"Thank you very much for sourcing the Red Stripe Band – they added an extra element to the party which contributed to its outstanding success. The feedback from the client was extremely positive and I would appreciate it if you would forward our thanks to the band. We enjoyed working with you on this event and look forward to working with you again in the future. "
– Private Client
"The wedding was fantastic & we both had an amazing day. We both loved the band & especially the music for our 1st dance -'It had to be you' from our favourite film When Harry Met Sally. The guests also loved the music either for dancing or just listening to.
I would recommend the band to anyone. Thanks again."
– Private Client
"Thank YOU! It was a brilliant evening, I enjoyed it and so did everyone else it seems! The feedback was brilliant – so many people commented on how good the band was, so you clearly did well! The dance floor was packed so was a great testament to how good you were. I was barely able to get on there myself!"
– Corporate Christmas Party
"The closest thing to Jools Holland and his big band."
– Jazz FM
Repertoire Includes:
Able Mabel – Jools Holland
Ain't That a Shame – Fats Domino
All of Me – Frank Sinatra
Alright Alright Alright – Roger Cotton
Baby Let Me Hold Your Hand – Jools Holland
Blue Monk – Theolonius Monk
Blueberry Hill – Fats Domino
Boogie Bumper – Big Bad Voodoo Daddy
Buona Sera – Louis Prima
Buzz Me – Louis Jordan
Choo Choo ch Boogie – Louis Jordan
Coffee Song – Frank Sinatra
Dr Jazz – Jools Holland
Enjoy Yourself – Jools Holland
Everybody Needs Sombody – The Blues Brothers
Flip Flop and Fly – Louis Jordan
Fly me to the Moon – Frank Sinatra
Ghost at my Door – Jools Holland
Good Golly Miss Molly – Little Richard
Great Balls of Fire – Jerry Lee Lewis
Guaglione – Guinness Ad
Hey Girl – Louis Prima
Honky Tonk Train Blues – Meade Lux Lewis
House of Bamboo – Earl Grant
I Feel Good – James Brown
I'm in the Mood for Love – Louis Armstring
Jailhouse Rock – Blues Brothers
Jump for Joy – Jools Holland
Jump Jive 'n' Wail – Louis Prima
Just a Gigolo – Louis Prima
L'Americano – Dean Martin
Let's Stick Together – Brian ferry
Mack the Knife – Frank Sinatra
Maidens Lament – Jools Holland
Mustang Sally – Commitments
My Baby Just Cares For Me – Nina Simone
Night Train – Duke Ellington
No Particular Place to Go – Chuck Berry
Nomad St Party – Dave Eastham
Red Stripe Boogie – Neil Drinkwater
Reeling and Rockin' – Bill Haley
Route 66 – Nat King Cole
Satin Doll – Duke Ellington
See Ya Later – Bill Haley
Shake a Tail Feather – Blues Brothers
Shake Rattle 'n' Roll – Elvis Presley
Shake Shake Boom Boom – Roger Cotton
She's Never Satisfied – Bill Haley
Signature / Five Months – Louis Prima
Smokin' Shuffle – Jools Holland
Soul Limbo – Test Match Theme
Sweet Home Chicago – Blues Brothers
Tequila – The Champs
The Way You Look Tonite – Frank Sinatra
There Ain't Nobody Here… – Louis Jordans
Travellin' Light – Cliff Richard
Tuxedo Junction – Glenn Miller
Watermelon Man – Herbie Hancock
Well Alright – Jools Holland
Whole Lotta Shakin – Jerry Lee Lewis
Yakety Sax – Benny Hill Theme
YMCA – Village People
You Never Can Tell – Chuck Berry
You're Mine – Neil Drinkwater
Photos of Red Stripe