Loz Because – Fire Performer | UK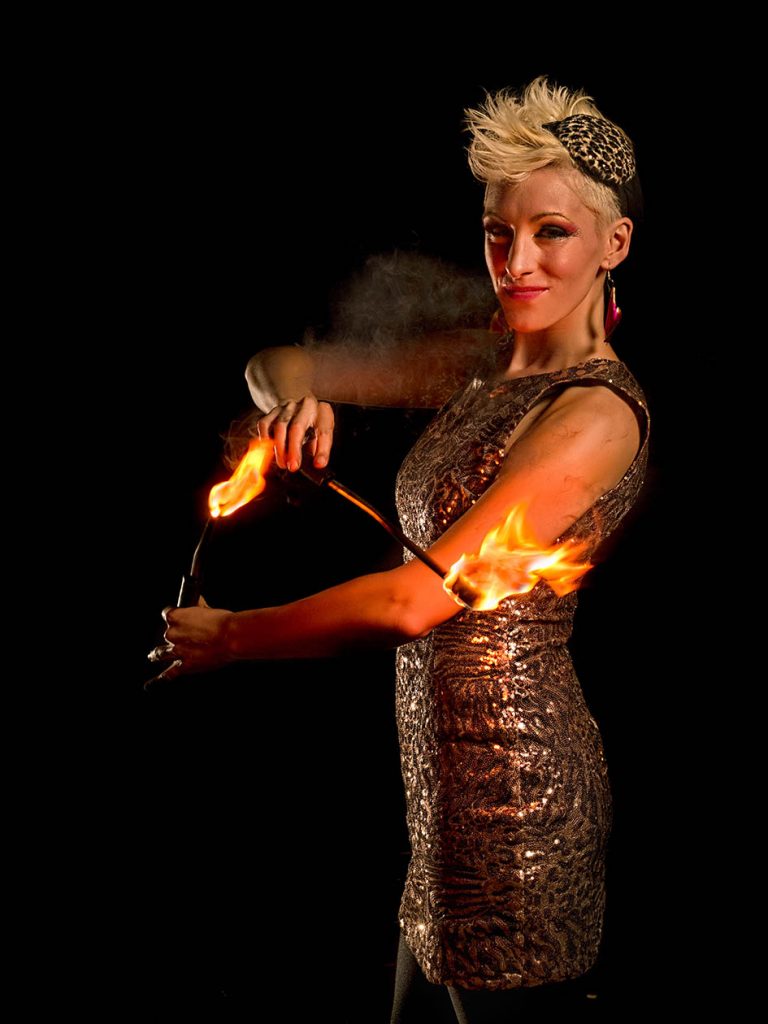 An unforgettable impact! Professionally trained dancer, Loz has wowed and amazed audiences across the globe with her huge range of fire skills. From the intimate art of fire eating and body burning, to the powerful effects of flaming ropes and Loz's specialty: fire hula hoops!
Loz performs with fire at corporate events, private parties, and festivals.
Solo Fireshow
A captivating spectacular show! Loz combines her fun and easy banter with simply astonishing fire skills to present a high-impact display that keeps the audience engaged throughout.
Looking for a big finish to your event? Check out Loz's astonishing finale! A 5x5ft flaming heart, which is balanced on a pole on Loz's chin!
Optional extras:
Loz can add two flaming initials into the centre of the heart – perfect for weddings or valentines events.
Loz can also rig stage pyrotechnics to fire fountains of sparks from the flaming heart sculpture – not to be missed!
Group Show
Interested in a group show? Just ask! Loz works with a award-winning international fire performance troupes.
Freestyle
2x 30mins or 3x 20mins sets
Loz is a world-class freestyle fire performer, she performs and teaches at masterclass level international conventions and workshops. Her style is fun, engaging and inventive – always a talking point for any event or party.
Testimonials:
"Wow! Loz was spot-on once again! She really has that certain something on stage – you can't take your eyes off her!"
– Flaming Fun Entertainment Agency
"Loz was fantastic! A crowd-pleaser as usual."
– Annabelle Holland, The Social Club Cabaret
"Loz's act was a huge hit with the audience combining great hooping skills with a huge amount of charisma!"
– Julian Bracey, Cirque Bijou
"Her incredible skill and endless witty banter had everyone enthralled. Simply stunning."
– Simon Chainey, Festival Director
Previous Clients Include:
SkyFest
British Juggling Convention Gala show
Bristol's Harbourside Festival Circus Stage
Olympic Torch Relay 2012
FlameOz Street Theatre Fesitval tour, Canada
Amman Festival, Jordan
Diesel
Mercedes
Bristol Hippodrome
Christmas Spiegeltent, Bristol
Bloomsbury Big Top, London
Southern Lights Arts Festival
Bath Bedlam Fair
Social Club Cabaret
Creative Commons Circus Festival
Photos of Loz Because