AFISHAL – UV Paint Drums | UK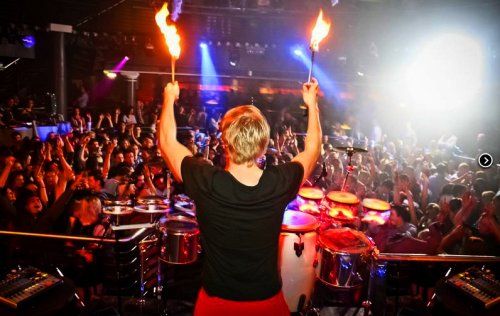 Visually few acts can compete with AFISHAL. All his drums are custom fitted with LED lights that flash and strobe to the music. The energy he brings to the stage, his funky riffs, mesmerising speed, flawless technique and endless stamina make him second to none. When he performs, all your guests will have their phones out filming!
With well over 1,500 performances to his name in the nightclub industry alone, he soon found himself regularly being flown around the world to support big names like Rizzle Kicks, DJ Fresh, Example and Professor Green and to entertain the likes of Carmen Electra, Holly Valance, Lewis Hamilton, Chris Hemsworth, Will I Am and even Beyoncé and guests at her VIP after party.
Spending 7 years touring internationally with his full percussion set up, his musical set up didn't go unnoticed. In 2012, he was asked to perform on Britain's Got Talent and made it straight through to the semi-finals, gaining massive support from Simon Cowell and the UK public in the process.
The Paint Drums
The show is based on the Blue Man Group's award winning Las Vegas show, yet venue friendly using only water, however with the same amazing effect.
Using high powered LED lights and a clever water pump system designed by AFISHAL this incredibly visual show can be maintained for us to 10 minutes at a time. A visually stunning, high entertainment option.
The Paint Drums can also be combined with the Fire Drums for the ultimate visual performance that is guaranteed to have all your guests mesmerised. This act was also featured on Britain's Got Talent FiSH on Percussion audition.
After the show there will be approximately 20 litres of water on the floor. A protective plastic ground sheet can be provided on request.
Standard Length of Performance:
FiSH performs 2 x 10 minutes sets. If you would like the Fire Drums included the show will consist of 2 x 12 minute sets.
Testimonials:
"Youre act is absolutely brilliantly timed, youre like a showman. I really, really like it and I really, really like you."
– Simon Cowell
"Whenever we have a big even on, I can always rely on Fish to do an amazing job. A pleasure to work with and a fantastic drummer."
– Beyoncé's World Tour
"Without a doubt the most entertaining musician on the Island, incredibly professional and knows how to work the crowd like no one I've ever seen before."
– Es Paradis
"Fish is the best percussionist weve ever used, that's why we keep flying him out."
– B Events
"Fish that was brilliant! You need to get in touch with my booking agent, youll go down so well on the student tour."
– Scott Mills
"I really want Fish to play at my wedding hes wicked. I think he has a massive career ahead of him as a superstar club DJ."
– Amy Childs
"We are very proud of our musicians, it's thanks to them that we have won the Best Live Music Venue Award."
– Richard Branson
"Dude those DJ Drums are sick, are you making those to sell. We need to meet up soon."
– DJ Fresh
"WOWSA! Check out my mate AFISHAL! Taking live club percussion to the next level! Im gonna be out of the job."
– Danny Howard
"Youve just revolutionised performing live music Fish."
– Abz
"Fish was amazing, people still havent stopped talking about him in the office. Well certainly be using him again for the Car of the Year Awards next month."
– Haymarket Consumer Media
"AFISHAL, Michael and Dwayne were all really friendly. They were very pleasant to work with and just seemed like normal people, fun people. The actual performance was excellent, and the crowd really seemed to respond to them. We will definitely recommend other organisers to look into hiring them…It was a pleasure to work with you too :)…"
– David Russell Hall Committee (via Contraband)
"The event went great…Afishal was fantastic and the crowd couldnt get enough of him! Thank you for all the help and Ill hopefully be working with you guys again soon!"
– University of St Andrews Student Association (via Contraband)
Previous Clients Include:
Cavalli Club
Sin City
Beyoncé's private after party
ALMA Awards
Space Ibiza
Es Paradis
Pukka Up
Nikki Beach
Tibu
Cameo Island
Dicks Tea Bar
European Winter X Games
Tamarai
White Club
O2 Academy
Photos of AFISHAL