Yoga Classes – Exercise Classes | UK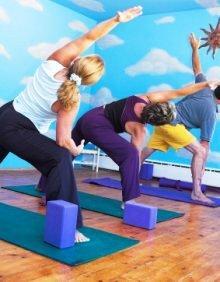 Yoga Classes
Introduction to Yoga classes for companies and at events UK-wide.
Yoga is the Sanskrit word for 'yoke' or 'union' – is a system of physical, mental and spiritual training. Originated in India, it is now becoming increasingly popular in the west. Yoga postures were derived through the observation of movement in animals that seem to move and relax more effectively than humans.
The postures are designed to develop flexibility and controlled relaxation, and incorporate controlled breathing exercises. The movements are done slowly and postures held for a minute to build awareness of the body, its tensions and patterns of behaviour. During a Yoga class, the essence is the inner concentrated awareness of physical and emotional harmony.
You will need to provide enough space for 18 people to lie on mats.
Photos of Yoga Classes
Book Yoga Classes
Want to book a performer, or just find out more? Give us a call on +44 (0)208 8291140 or use our online contact form via the button below.