Victoria – 3D UV Body Painter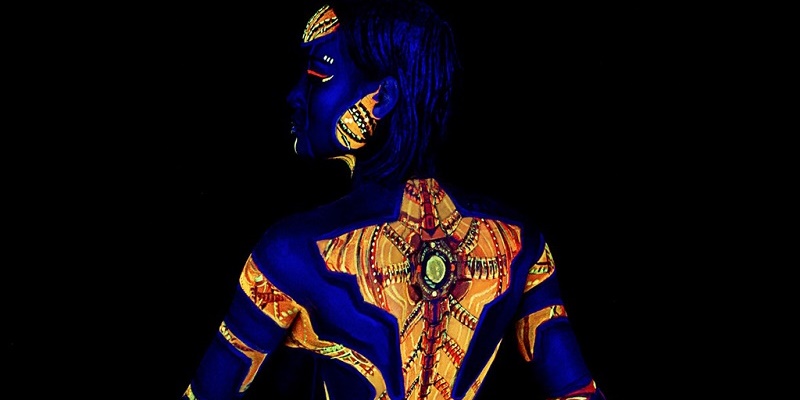 World award winning body painter and world ranking makeup artist Victoria has been delighting audiences from all over the world with her body art, with her 3D body art having to be seen to be believed. She is available to hire for corporate events, private parties, balls or weddings and will leave the guests at your event amazed with her exceptional body painting skills.
Her work has graced The Guardian and has seen her become a makeup artist on Guardians of the Galaxy, Channel 4 and PRIDE and was recently featured on Channel 4's Superhuman Body handbook. Let her beautiful work take you to another realm of existence, where anything is possible and your imagination can run wild. Under black light, everything from models and dancers to cosplayers become beautiful unique entities that captivate.
Need something bigger and better? Victoria can also create art installations featuring multiple models, as well as literally paint people as living canvasses, camouflaging them into works of art before your eyes.
Standard Length Of Performance:
Small set: 1-4 hours
Medium: 8 hours
Day installation: 10-12 hours
Testimonials:
"Brilliant, stunning, super"
– Richard Dawkins
"Fully commited to living her art"
– Martin Robbins
"AWESOME! I never want to take my bodypaint off!"
– Deb Roach, Channel 4's Superhuman Body Handbook
"She's the best!"
– LG productions
Previous Clients Include:
Cirque Le Soir
Nokia
World Bodypainting Festival
Cyberdog
Stylo International
London Fashion Week
Channel 4
Cameleon Bodypaint
LG productions
Marvel (Guardians of the Galaxy)
Disney
The Guardian
Ancestor's Trail sponsored by The Richard Dawkins Foundation for Reason and Science
Robosteel
Victoria is a 3D UV body painter in London, perfect for private parties, birthday party entertainment, themed party entertainment, Christmas party entertainment, festival entertainment, family party entertainment, party entertainment, drinks party entertainment, nightclub residency entertainment, birthday party entertainment.
Photos of Victoria
Book Victoria
Want to book a performer, or just find out more? Give us a call on +44 (0)208 8291140 or use our online contact form via the button below.