Aerial Performers: Vertical Dance – Italy & Int.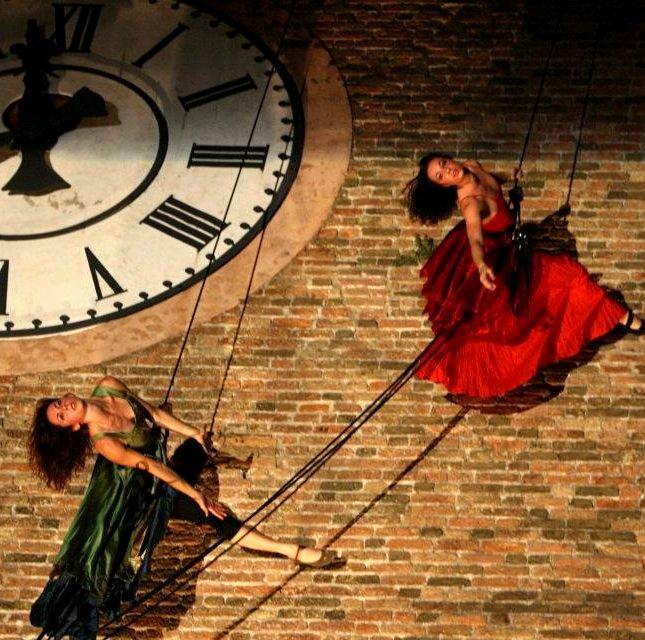 Vertical Dance
Vertical Dance is a project conceived in 1994 by the choreographer Wanda and the musician Marco, and it is based on the interaction between dance, music and architecture. These performances are perfect for large and outdoor events such as corporate events, festivals and exhibitions. These corporate entertainers have been performing their stunning acts all over the world and always make a huge impact wherever they go.
The dance is performed to music played by Marco, who is one of the most talented Italian sax players around, with a brilliant and prolific career with a broad artistic activity. In his long career, he has travelled across many different musical languages, highlighting the qualities present in each form of expression and always pursuing a very personal sound, free of clichés but rich in emotions and atmospheres.
There are no borders or roles, because everything has become a unique space gathered by the presence of the bodies, a space that changes only through movement and music. Live music completes the creation of which the audience and the location are integral figures.
Vertical Dance is an utterly unique blend of live music, choreography and space: the whole effect is always different and it defies description since it changes as the setting changes.
Over the years the performance has developed into different choreographies on the façades of buildings, bridges, towers, lighthouses, cloisters, historical palaces, but also theatres, museums and industrial buildings.

Standard Length of Performance:

The timing of each performance can be tailored to suit the client's requirements.
Previous Clients Include:

Singapore Arts Festival
Uniteatro Festival
Italian Festival
Kuopio Dance Festival
Dimitria Festival
Lugar a Dança
Silkeborg Performer House
Doha In Qatar
Gaborone in Botswana
Fools Festival
Defense Paris
Festival Des Arts Vivant
Mittelfest
Roma in Scena
Carnival of Venice
Photos of Vertical Dance
Book Vertical Dance
Want to book a performer, or just find out more? Give us a call on +44 (0)208 8291140 or use our online contact form via the button below.