USO – Little Swing Band Vocal String Orchestra | UK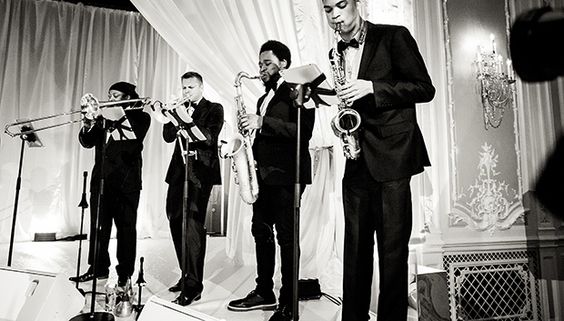 The USO Little Swing Band consists of 1-2 vocalists, string quartet and 2-4 piece horn section to backing tracks, who entertain with rich, lively arrangements of classic swing band standards by Glenn Miller and Frank Sinatra but also incorporates new hits by artists including Michael Bublé. Male vocalist Stefan Booth was recently the lead in Chicago: The Musical in the West End and UK tour.
USO is a young, contemporary and diverse string-based ensemble with a groovy twist, DJ and vocals. By adding percussion and bass to the classic string ensemble, they've created their own unique blend of strings, beats and bass lines. Soulful arrangements of lush strings and funky rhythms combine to create a fresh, modern and classy sound.
Available in different sizes, USO is ideal for receptions, parties and special events — where live music is required to enhance the occasion. They have an exclusively arranged repertoire of chilled out lounge grooves, contemporary pop and soul, cool jazz and blues, and beautiful classical music. They also undertake special commissions by request.
USO have recorded and performed alongside many of the music industry's most high profile and successful artists, including Groove Armada, Jay-Z, Keane, Nitin Sawney, Cliff Richard, Gabrielle, Nightmares On Wax, Robert Miles, Maxi Priest, Brinsley Forde (Aswad), Shola Ama, Kenny Thomas, Steve Brookstein, Paul Potts, Heather Small, Carleen Anderson, Octave One, China Black, Misty Oldland & Denise Pearson from 5 Star. They have also featured in TV and video promotional campaigns for Kylie Minogue, Emma Bunton, Sonique and Annie Lennox.
Photos of USO