Urban Statues – Human Statues | UK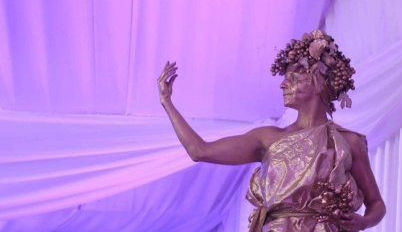 Urban Statues provide beautiful costumed living statues. All their performers are movement trained, articulate and thoroughly professional at all times. They have appeared at a variety of different venues including outdoor festivals, nightclubs and at a range of corporate and charity engagements across the UK.
Urban Statues employ gifted costume and make up artists to create a unique and enthralling high quality look for our characters. All of their performers are articulate, highly trained professional dance, circus and physical theatre artists.
Costumes available include Classical Greek Gold Statues, Silver Art Noveau Statues, Classical Greek Stone Statues & Goldfinger Bond Girl Statues.
Characters include:
Raised Borders
Colourful characters attired in lawn-like skirts & flower bed tops. They are inclined to tending and watering passers by.
Amazonian Angels
Feisty winged messengers. These are pewter exo-skeletal angels with attitude!
Dragonfly
Armour clad but with delicate filigree dragonfly wings.
Audacious Aliens
Earth can be a confusing place for lost Aliens! This bubble gun-toting, map carrying Aliens with illuminated head attire seek assistance and imitate Earthling behaviour. They are also available on stilts.
Seraphim and Cherubim
Her steel corset contrasts with her gentle grace. She can be accompanied by her mischievous, roller-skating cherubim.
Butterfly
She is an extraordinary stilt insect, with fabulous wings. A beautiful constructed costume and glorious image, that lends colour to any event.
Scorpion
Beneath her elegant appearance, this corseted and bustled lady has the instincts of an insect. The female of the species is more deadly than the male!
Ethereal Angel
A strange, masked ethereal being with genuine crystals and spectral white, this divine creature is fantastical under light and glows under UV.
Salamander
A glint eyed, carousing gold and purple creature on spectacular bouncing stilts. He displays his striking collar when roused!
Parisian Cabaret
High camp Parisian decadence with a dash of oooh la la and a serious amount of ostrich feathers!!!
Pirates
Marauding seems to be their aim! Approaching landlubbers, do they want gold? Silver? Doubloons? No they want nothing more than to share bad pirate jokes.
Little Bo Peep
Authentically dressed Bo Peep brings lots of fun to events. She's a bit shorted sighted and mistakes members of the public for her lost sheep! Great fun for rural events and also Little Bo Peep works ironically in urban locations.
Waitress
She towers over guests "politely" declining to distribute "her" drinks from her tray. Hilarious interactions ensue as rumour spreads around the event about the bizarre nature this character.
Moannie Mouse
The darker sister of Minnie Mouse. She's everything Minnie isn't and more. Walt Disney is turning in his grave!
Art Deco Silver Statues
They are beautiful, interactive living statues available and with props to create the god Dionysus and goddess Athena.
Gold Grecian Statues
Elaborate headdresses make these statues particularly opulent.
Stone Statues
Utterly still these statues have confused many passers by.
Icicles
Even on the hottest day these glacial statues remain utterly frozen. Their frosty faces have an extraordinary ice and snow effect make up.
Goldfinger
Great for your Bond themed parties.
Their statues appear on fabulous 3 foot tall metal podiums that have water ethereal water misters in the base.
Standard Length of Performance: 3 x 30 minute sets or 2 x 45 minute sets.
Testimonials:
"I've used Urban Statues for years, they always come up with the goods…gorgeous and quirky."
- Speed Queen
"Lovely costume, beautifully presented, you've really added some magic to the event"
- C.S Jewellery
Previous Clients Include:
Opera North
Selfridges
WPA
Glastonbury Festival
Bridgewater Place
Leeds City Council
Chamber of Commerce
Sowden Watson PR
Arup
The Royal Armouries
Carphone Warehouse
Pret A Mange
Photos of Urban Statues