Urban Groove – DJ & Percussion Band | UK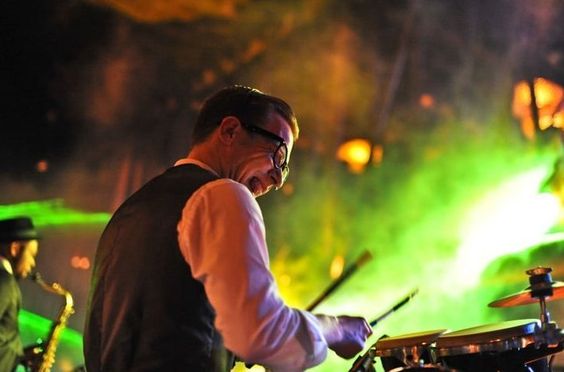 This funky collective is a much-needed shot in the arm for today's club and corporate entertainment market. They deliver a wide variety of music taking in Hed Kandi, Café Del Mar for openers and then quickly move through dirty disco, pop, contemporary chart and twisted concoctions. Made up of three of the finest names in popular music today, these guys are second to none when it comes to live music.
Aside from regular cutting edge club work at Home House, Gilgamesh and Amika Max Elliott is well versed in the inclusive performance world and understands the delicate balance between accessibility and fashionable content.
Alongside their DJ is the stylish percussionist, Rich Ramsay who has played with many international artists including Avril Lavigne, Fedde Le Grand, Blue, Sam Young, Steve Smart (Kiss FM), and even Eminem. He has performed on some of the biggest stages including the Brits, Party in the Park and the Smash Hits Awards. Alongside this, he has had 3 top 10 singles including performances on Top of the Pops, CD:UK, Popworld, T4 and MTV.
Graeme on saxophone is a slick performer spearheading the new wave of fearless performers who have taken the jazz world by storm. He effortlessly mixes traditional jazz licks with a fresh approach to the genre. As an artist, he has received rave reviews in the national press with his original take on improvisation.
You can also upgrade Urban Groove and utilise the rising roster of female performers who are setting London's club scene alight. A female saxophonist, DJ or percussionist is a great way to give this great act a funky twist.
Technical Specification:
A PA which is appropriate for the venue will need to be provided with bass bins and tops.
DJ Requirements:
1 x desk/table for decks, 2 x CDJ 1000 MKIII, 1 x DJM 800 and 1 x monitor.
Percussionists Requirements:
2 x c1000 or similar, 2 x sm57 and 1 x monitor.
Saxophonist Requirements:
1 x wireless bug microphone, and 1 x monitor.
Standard Length of Performance:
The DJ set is 4 hours, with sax and percussion performing 3 x 30 minute sets.
Testimonials:
"…..they were fabulous as was the set up, take down, organisation, etc….Thanks for your superb support and responsiveness."
– BskyB Ltd (via Contraband)
Previous Clients Include:
Amika
Home House
LoungeLover
One Leicester Sq
Hurlingham Club
Paper Club
Playboy Club
Café de Paris
Roundhouse
Tower of London
House of Nations
Eurovision 2012
Photos of Urban Groove