Upshot Performance – Various Walkabout Acts | UK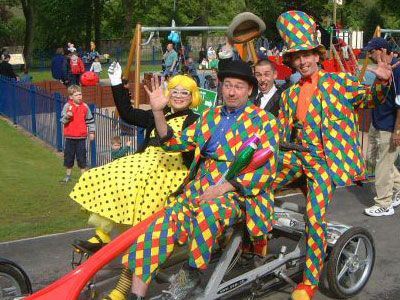 Upshot Performance is a circus arts company operating from Sheffield throughout the U.K. and Europe.
Upshot Performance can offer a wide variety of performers including:
Stiltwalkers, jugglers, living statues, acrobats, and unicyclists. We specialise in corporate events, fun days, retail, promotional and company days.
Their services also include team-building exercises and peer teaching for groups of up to 300 employees. We supply balloon modellers, face painters, walkabout acts, clowns and a variety of workshops in making masks, kites, puppets, lanterns, costume, and general arts. We can integrate circus and craft workshops for the same event.
Upshot Performance will provide everything you need at the most budget friendly prices. Please contact us for further details or images.
Costumes Available Include:
Christmas Parcel
Roller Snowman
Santa Clause
Christmas Elf
Christmas Cake
Christmas Crackers
Toy Soldier
Floor Scarecrow Duo Living
Easter Egg
Cake
Flowerpot Men
Standard Length of Performance: 3 x 45 minute sets.
Testimonials:
"Thanks for your tremendous efforts in making our Christmas celebrations such a success - beatiful costumes!"
- Aberdeen City Council
"Thanks for all of your efforts in putting together our corporate circus workshop for Capital Radio at The Point in Dublin. Everybody had a great time"
- Momentum Operations consultant
Previous Clients Include:
Aberdeen Council
Canary Wharf Shopping Centre
Donaldsons retail letting agents
Meadowhall
Bluewater
Trafford Centre
Manchester Arndale Centre
Next PLC
Marks & Spencer
Perkins Diesel Engines
BAA Glsgow, Stanstead, Heathrow, Gatwick
Sainsburys
Tesco
Somerfield
PC World
Mothercare
Currys
WH Smiths
Waterstones
Photos of Upshot Performance