Indian: Unnati – Ghazal Singer | UK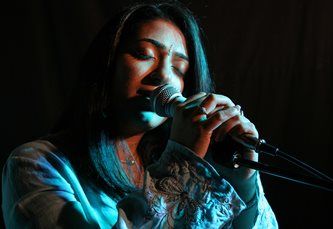 Unnati (whose name literally means "prosperity" in Hindi) was blessed to have been surrounded by the gift of music from a young age, her father was the late Shri Nitai Dasgupta, Indian Classical vocalist. Unnati is a former Glastonbury Jazz World Stage Unsigned finalist and has performed at prestigious venues and festivals around the world including, Mexico's Cervantino Festival, Alchemy Festival in London, Boubou's Music Festival in the Caribbean and Kala Ghoda Arts Festival in Mumbai. If you are putting on an Indian themed event and would like to hire a Ghazal singer for your private or corporate entertainment, we can't recommend Unnati enough!
Unnati is a singer, songwriter & composer of Indian classical and contemporary music including the following music genres; Ghazal, Bhajan, Sufi, Punjabi Folk, Bollywood, Indian Classical and her own original compositions from her debut album released in Spring 2017.
Recently, Unnati was invited to perform 'Raghupati Raaghav' from the film Gandhi at Westminster Abbey, in memory of Sir Richard Attenborough (CBE). Unnati also took part in a concert on India's Republic Day "Gandhi Remembrance" at London's Cadogan Hall.
Unnati is a versatile artist who performs ghazal, sufiyana, folk, classical, film songs and her own original songs from her forthcoming album "Indigo Soul".
Photos of Unnati