Tumbling Circus – Aerial Performers | UK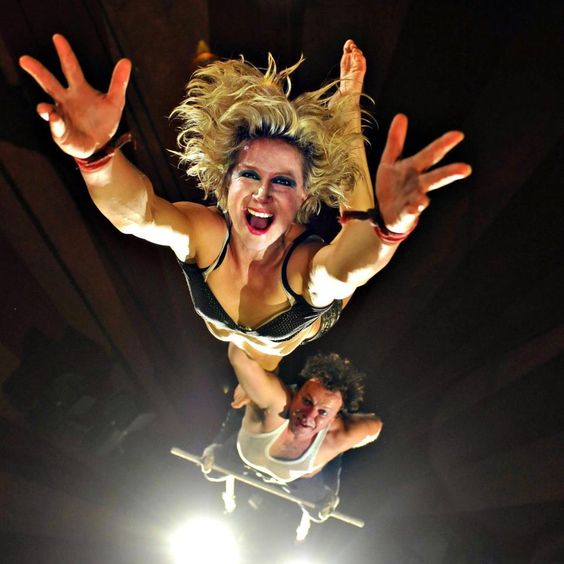 Tumbling Circus is a unique experience of innovative Irish circus, specializing in high skill circus street theatre; with ordinary people doing extraordinary things. They are said to be the biggest sensation and crowd pleaser to come out of Ireland since Guinness.
Tumbling Circus is attempting to win people back to circus. Forget what you know and peel back the canvas. Their shows are a light-hearted jaunt into the soul of man, alive with the endless possibility of the human body, the joy of performing, and the humanity of success and failure.
Tumbling Circus are dedicated to high caliber circus, rooted in Vaudevillian Clown, and it is their desire to create new and exciting circus theatre that is entertaining, amazing and accessible to all.
The versatility of Tumbling Circus' performers enables them to provide anything from large scale aerial work (indoors or outdoors) to individual circus artists working in smaller venues.
Acts Available Include:
UpAbove
Witness a 40 minute aerial beautiful disaster in mid-air, with extreme circus skill, inventive humour and exhausting talent. Slap stick acrobatics, hazardous aerial and flying hula hoop all performed around a 7meter high free standing trapeze rig. Tina and Kenevil invite you on a cultural car crash of circus street theatre.
Grounded
A show that can go anywhere. One suitcase, six clubs and 40 minutes of circus, slapstick, and comedy. Incredibly talented, stunningly technical and very, very stupid.
Toin Thar Ceann
A lost troupe of traveling tumblers park up somewhere in your city. They are on a search for identity, home, respect and a good price for 20 meters of quality carpet. Welcome to the world of the outsiders. Plying their trade of circus, a cramped carny caravan of music, aerial, and acrobatics. Their goal is to reach into the minds and capture the hearts of both the old and young in their 50minute circus theatre show. Somersault show.
Falling Apart
A 7 minute high skilled comedy trapeze act, with a dynamic display of total trust, physical strength and no clear idea of what is happening, the perfect piece for creating audible gasps. Duo trapeze.
The Escape
Houdini is dead and David Copperfield is too expensive. Meet Kenneth, Irelands most inexpensive and still alive escape artist, 20 meters in the air hanging from the end of a burning rope. A death defying comedy of implausible consequences
Dreamweaver
An aerial performance weaved in silk and flesh with inspiring strength and effortless grace. Beauty and peril drop, descend and cling, a visual treat of modern circus skill. Can be performed as solo act, duo or group.
Knot Smart
Knot Smart – circus, comedy, entertainment. "Give a fool enough rope and he will hang himself". A deeply superficial gawk at the tragic soul of a man, on a quest to recreate love. Corde Lisse act.
Testimonials:
"Transforming the town square into a circus arena, Tumbling Circus enthralled their audiences with dazzling trapeze." – Association of Irish Festival Events
"The highlight of the event was the appearance between courses of trapeze artists from Tumbling Circus. Most dramatic."
– Private Client
"Turning the circus tradition upside down!"
– Irish Times
Previous Clients Include:
World Busker Festival
Street Theatre World Championships
La Clique
Dublin Theatre Festival
Watch this Space
La Strada
Corporate Solutions
Taste of Tasmania
Lunar Circus
Grugliasco Circus Festival
Photos of Tumbling Circus