A Tribe Called Quest – Famous Band | USA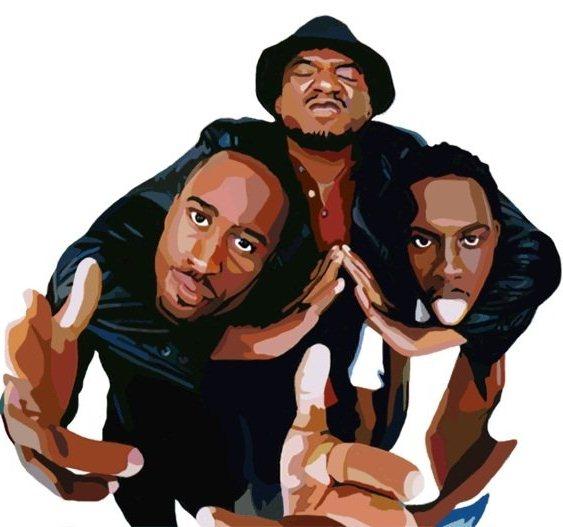 A Tribe Called Quest
Booking the A Tribe Called Quest will cause a storm at your next corporate event or private party! We are a booking agent for A Tribe Called Quest, and can arrange for the A Tribe Called Quest to perform for your guests.
A Tribe Called Quest is one of Hip Hops most legendary, beloved and revered groups of all time and for good reason. Easily recognized for their unique approach to rap music by employing jazz infused soundscapes to Afro centric rhymes, sans the jaded and often nihilistic aggressive posturing associated with hip-hop, A Tribe Called Quest (ATCQ for short!) was largely responsible for the popularity of a new genre that dominated the East Coast sound of the early 1990s.
Queens, New York natives Q-Tip , Phife Dawg , and Ali Shaheed Muhammad of Brooklyn, formed ATCQ in 1985. Jarobi, the honorary member of ATCQ, though not always heard, was a fixture of the group in heart and in friendship. Quest, the original name of the group, was later given the prefix A Tribe Called by their high school buddies, The Jungle Brothers, while recording Black Is Black for their album Straight Out The Jungle. ATCQ, along with the Jungle Brothers and De La Soul, formed a unit called The Native Tongues. With a building buzz around The Native Tongues and Tribes energetic live performances, ATCQ landed a major recording contract with Jive Records in 1989.
Sonically, ATCQ was a decisive and welcomed tangent of jazz, bass-heavy rhythmic vibes and eclectic sampling when compared to the mundane recycling of soul loops, breaks and vocals of their contemporaries. Lyrically, emcees Q-Tip and Phife Dawg addressed social issues relevant to young blacks such as use of the n word and its relevance, date rape and other interpersonal relationships, industry politics and consumerism with infectious energy and fun and having a good time while still promoting positivity.
A Tribe Called Quest composed a number of successful singles and albums with their creative approach to rap music. In 1990, the group released Peoples Instinctive Travels and the Paths of Rhythm, scoring several memorable songs including Bonita Applebum, Can I Kick It and I Left my Wallet in El Segundo. It was their sophomore effort, The Low End Theory, considered one of the greatest follow-ups in hip-hop history, that would solidify them as legends. Released in late 1991, the freedom expressed in the creation and feel of this record – along with its successor Midnight Marauders – influenced many future artists and producers such as Common, The Roots, Jill Scott, Kanye West and The Neptunes. These artists are a part of ATCQs legacy and are evidence of ATCQs impact for years to come. Classics like Award Tour, Electric Relaxation, Check The Rhyme and Scenario defined ATCQs sound during this period.
In 1996, ATCQ's fourth album, Beats, Rhymes & Life, was released. The Ummah – a production team consisting of Q-Tip , Ali Shaheed and newcomer and stellar talent Jay Dee (now Jay Dilla of Slum Village) – was established the same year. The team worked together to share their aural aesthetic with other artists like Janet Jackson, DAngelo, and Faith Evans.
ATCQ continued to perfect and advance their sound, displaying their unique take on hip-hop. It was with the completion of their fifth studio album, The Love Movement, that ATCQ chose to exit the proverbial stage.
In recent years, the anticipation for another ATCQ album has been building. The Abstract Poetic, Five Foot Assasin , and Mr. Muhammad have yet to grace the studio for another record, but have hit the road again. Today, the power of their music is still evident in their dynamic stage shows and in the reception of their adoring fans.
A Tribe Called Quest 's anomalous posture has changed the face and sound of hip-hop and paved the way for future groups, artists, producers and even fans to be unapologetic about their creative expression. With or without future recordings, A Tribe Called Quest 's legacy lives on in the groups creative innovation that is recognized as a profound contribution to musical history.
A Tribe Called Quest can be booked to play at your private or corporate event through Contraband International. As a talent booking agent for A Tribe Called Quest we can organise for them to perform at your event. To hire A Tribe Called Quest call Contraband Events as we can make it happen. We are a booking agency for a huge selection of famous singers, and we can recommend the best artists for your special event.
Photos of A Tribe Called Quest
Book A Tribe Called Quest
Want to book a performer, or just find out more? Give us a call on +44 (0)208 8291140 or use our online contact form via the button below.