Tommy & The Belles – Party & Function Band | UK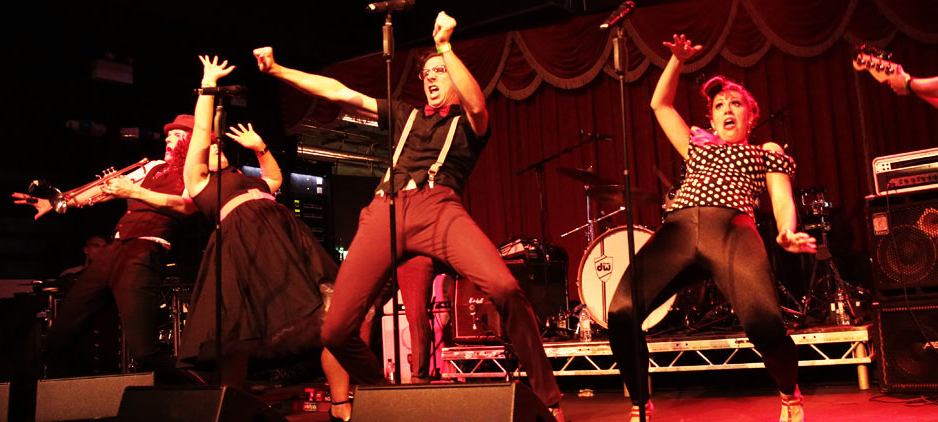 An ice cream parlour isn't the usual place for sparks to fly, but when Tommy dropped his girl off for her last shift on the scoops, his musical life changed forever. He knew he'd met kindred spirits in Annie-Grace and Holly-Belle (The Belles) when he saw them snapping their fingers and harmonising to soul 45s on the Wurlitzer over milkshakes and sundaes.
It was only a matter of time before they found the perfect back line to their new choreographed harmonies in The Tones – a bunch of garage grease monkeys who tinkered with cars at Franks Hot Rods.. The music has been coming thick and fast ever since.
By mixing Tommy's quirky vocal power, with the Belles beautiful harmonies and the rhythm and soul of The Tones the band provide an energetic, spellbinding, slick-as-grease show that rolls, thunders, roars and soars. Watch out! It's spreading like wildfire from Memphis to Manchester…
Tommy and the Belles are a unique collaboration of some of the finest and most respected session musicians on the UK scene. With their passion for the original classic R 'n' B, Rock 'n' Roll and Soul acts from the 60's and 70's which exuded such amazing energy and love of modern Pop and Rock hits from artists such as Katy Perry, Kings of Leon, A-HA, Amy Winehouse Tommy and the Belles have fused together the best elements of both eras to create a new, exciting and truly original sound!!
Tommy and the Belles is not just a band it's a whole experience, a complete choreographed show.
Standard Length of Performance:
The band plays 1 x 90 minute set.
Testimonials:
"Thanks so much again for Thursday night. You were all fantastic! I hope to be able to book you again and again. Best wishes from me and all at Siemens!"
– Siemens Hearing Instruments (UK) Ltd
"Can you please thanks the band for us – they were fantastic!!!! They really made the night. And even put up with my stressing – very professional. We will definitely use them and you again. Wonderful! Thanks again."
– Micala
"I'm not sure I can fully do justice to the positive feedback we received for Tommy and the Tones, but the comments ranged from 'I wish I'd known about them before my wedding' to 'best band EVER' to 'well done guys – but you're never going to top this!' From our side we were thrilled with the band and they really put on an amazing show!"
– Coller Capital
Example Set List:
Superfly
The Way You Make Me Feel
Let's Go Crazy
Love Really Hurts
Pack Up Your Troubles
Wipeout
Forget You
Hit The Road Jack
Chicken Payback
Pump It Up
The Night
Love Machine
King of the Swingers
It's All Over Now
I Bet You Look Good On The Dance Floor
The Snake
Beggin
Memphis Soul Stew
Footloose
Proud Mary
Valerie
Ain't Go No
Turnin My Heart Beat Up
The Clapping Song
I Kissed A Girl
Mama Do The Hump
Take On Me
Are You Gonna Be My Girl
Tainted Love
Wake Me Up
Photos of Tommy & The Belles