Tom & Simon – Guitar & Violin Duo | UK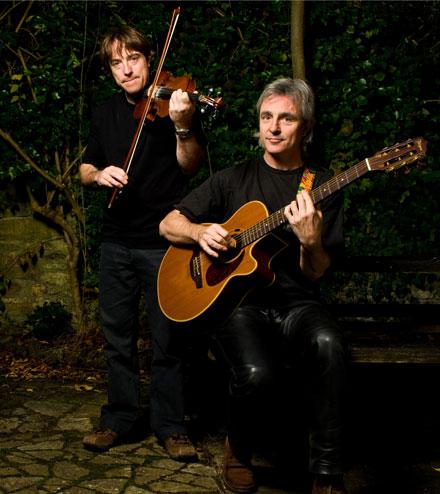 Tom and Simon soothe the atmosphere with their lyrical acoustic performance as well as getting the crowds leaping with foot-stomping Celtic belters! Their repertoire includes a mix of folk, rock, blues, Irish, jazz and country.
Tom is an outstanding violinist and Simon started performing as a duo in 2007 and are available for private parties, weddings and corporate functions.
They can supply their own PA system if working within the UK.
Standard Length of Performance:
3 x 45 minute sets
Testimonials:
"Everyone was awestruck at what was a world class performance by the two musicians; I was sure they must have had blisters on their fingers."
- BBC Somerset
"Just to say a big thanks to you both for making our wedding day even more special and memorable, we could not have asked for anything better and our guests all said how much they enjoyed the evening entertainment. Nothing was too much trouble for you and Simon"
- Private Client
"It was a joy to have Tom and Simon playing at our wedding and we're both completely delighted to have had two such accomplished, versatile musicians and fantastic people with us on the day. It was unbelievably perfect. You tailored your styles and material for the different parts of the day and really made a difference to the atmosphere, and helped us to create just the sort of mood we wanted. It's obvious you both REALLY love to play and I think it was also obvious how much everyone enjoyed it. Thanks again you really contributed to us having the wedding of our dreams"
- Private Client
"You made our evening go with a fantastic swing; the men thoroughly enjoyed the guitar requests and played along with their own air guitar; the fiddle really got the ladies up jigging and twirling: Where did you get the musicians from was the question of the night. Furthermore, thank you for allowing us to use the mic for our speech and our friend to sing us a song, with you backing him, great fun. We shall certainly be passing on your details -Thank you guys we cant wait for our next partyAbbi, we are speechless, thank you over and over again."
- Private Client
"We had a wonderful time and everybody was very impressed with the entertainment. I personally thought they were very nice men and brilliant musicians, everybody kept asking me where I had found them! I did thank them on the night but if you could pass on our thanks again from both my husband and myself for making our party go so well. I would not hesitate to recommend them to anyone and would definitely use them again. I would also like to thank you for all your help and sterling work."
- Private Client
Repertoire Includes:
Irish- Songs – Jigs - Reels - Instrumentals
Black Velvet Band
Brown Eyed Girl
Bunch of Thyme
Devalera
Dirty Old Town
Drowsy Maggie
Folsom Prison Blues
Gold Ring
From Clare to Here
Irish Washerwoman
Jennys Welcome to Charlie
Moondance
Paddy Faheys
Raggle Taggle Gypsy
Scarboro Fair
Spancil Hill
Streets of London
Top of Cork Road
Sheebeg Sheemore
Whisky in the Jar
Wild Rover
Jazz Tunes

Aint Misbehavin
Autumn Leaves
Blue Bossa
Fly Me to The Moon
Green Dolphin St
Night And Day
Night in Tunisia
And Many More...
Instrumentals
Wedding Guest
Scarboro Fair
Farfraes Dance
Fields of Gold
Uncle Toms Cabin
Duelling Banjos
Visions of Sara
Torquoise
Tall Fiddlers
Classical Gas
Good Grapes Bad Grapes
Lazy Jazz
Stairway to Heaven
Charlies Song
Summertime
Spanish Romance
Hard Rock
Sweet Child O Mine
Cocaine
La Woman
Watchtower
Voodoo Chile
Pride and Joy
She's Not There
Freebird
Born To Be Wild
Alright Now
Hey Joe
Layla
Walkin By Myself
Europa
Do it Again
Southern Man
Thril Is Gone
Texas Blues
No One to Depend On
Love
Rokit 2 Me
Soft Rock
Sweet Home Alabama
Smooth
Wonderful Tonight
Samba Pati
Honky Tonk Women
Play That Funky Music
Mustang Sally
Oye Como Va
Hotel California
I Shot The Sherrif
Every Breath You Take Care, Do it Again
Tears In Heaven
Johnny B Good
Need Your Love So Bad
Photos of Tom & Simon