The Singing Chandelier – Bespoke Singers | UK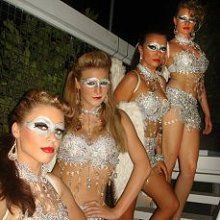 Five girls, adorned with beautiful and ornate Swarovski crystals, and each with real candelabras attached to them (LED candles), to make a stunning Chandelier installation piece….that sing stunning melodic songs in 5 part harmony.
Songs all sung in a 5 part harmony acapella and with a 40's jazz tilt…The girls are available in 40s or Marilyn wigs.
Set Times:
3 x 30 minutes.
Repertoire Includes:
Summer Time (Ella Fitzgerald)
Shine (Take That)
Let the Sunshine In (Hair)
Candle in the Wind (Elton John)
Creep (RadioHead)
Toxic (Britney Spears)
Halo (Beyonce)
Halleluiah (Alexandra Burk)
Run (Leona Lewis)
They can perform a selection of Christmas songs also if desired, for example O Holy Night, Joyful Joyful and more.
Photos of The Singing Chandelier