The Pieman – Mobile Pie & Mash | UK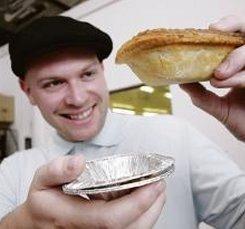 If you want pie and mash or traditional seafood at your event then look no further than The Pieman! His pies have been the talk of the town! The Pieman has served his pie and mash as well as his traditional seafood dishes at corporate events, festivals, concerts and private parties all over the UK, and has always had great feedback! This type of catering is particularly good for St. George's Day and British themed events.
These pies are to the original recipe using a unique cold water pastry mix, and by making the pie by hand, the way it has been done in London Pie n Mash shops over the last 160 years. They have however updated the ingredients used, they use spring water and ONLY spring water in all pastry mixes, this was substituted from water drawn by their grandparents from an artesian well in Leadenhall Street EC1. They have also maintained salt levels to the mixes (yes there are two different mixes to the pies) as a reduction of salt affects the taste radically.
Although not essential, they still add lemon juice to the mixes, as this was done years ago to eradicate the taste of fats used in the early 1900's. About five years ago, they added a percentage of maize to the wheat used for the pie tops, this achieved a pleasing rich reddish brown colouring to the pie, and also made it easier for their speciality of burnt pies (burnt round the edges). A pastry flour made from a blend of wheat and maize is used in the production of short, sweet and savoury pastry. Less fat inclusion is needed to achieve the desired shortness.
Standard Length of Hire:
The Pieman can be hired to the client's requirements.
Testimonials:
"Very, very good and enjoyable!"
- Chaz & Dave
"Over the moon!"
- Micky Flannigan
"Spot on!"
- Danny Dyer
"The pastry is something else!"
- Larry Lamb
"The love of a good pie is a powerful thing!"
- Suggs (Madness)
"The best and most authentic pie and mash on sale in the UK. FACT!"
- Pearly Kings and Queens
"Thank you! It was a taste of East London!"
- Sabrina Ghayour
Previous Clients Include:
The Troxy
Alexandra Palace
02 Arena
Earls Court
Granary Square
Northampton County Cricket Club
Millwall Football Club
Spitalfields Market
Folkestone Racecourse
Photos of The Pieman