The Oyster Lads – Food Entertainment | UK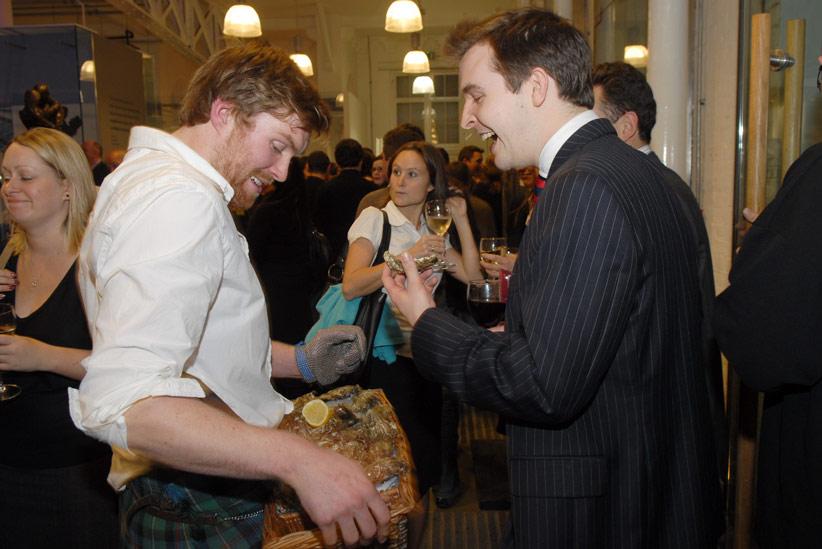 Oyster Lads Colin and Robin have been in business since 2005. From their farm on the shores of Loch Creran they bring the fresh and fine experience of the Scottish oyster to events throughout the UK and Europe. After many summers bending their backs on the family oyster farm, the boys look to harness their knowledge and share the wonders of the oyster with the masses. By cutting out the middle man, the Oyster Lads bring the freshets produce straight from sea to mouth, bringing the customer closer to the farmer.
Oysters are more than a food, snack or canapé – they glisten and sparkle in their own sensual way. Through the quality of their shellfish, conversation and literature, Colin and Robin make eating a Temple and Shian Oyster as memorable as possible.
Colin and Robin's enthusiasm and flexibility allows them to work at a wide range of functions. Over the past year they have worked at events ranging from the Monaco Grand Prix on behalf of Red Bull to Andrew Maxwell's FullMooners party in London. They guarantee that their oysters will be the freshest, that they will taste the best, and always give a special surge of energy.
Supplying, preparing and serving the oysters combine to create a stress free involvement for the client with maximum satisfaction and reward. Robin and Colin are a quirky and unique addition to your event. Wearing kilts, the boys serve oysters straight from their traditional baskets or a tailor made oyster bar, opening on demand.
This mobility not only allows them to engage and enthuse clients about the product but makes the way the boys work very flexible. They add a wonderful atmosphere and entertainment to any party. Their youthful enthusiasm and flexibility allows them to work at a wide range of functions.
Bloody Mary Bubbles
The Oyster Lads have created a wonderful new version of the Bloody Mary! Each Bloody Mary Bubble comes on a spoon and is consumed in one yummy mouthful.
Testimonials
"The Oyster Lads were recommended to me by Sky's Group Director of Communications and we were certainly not disappointed! The lads went down a storm at the recent event we organised for Sky's Top 400 senior managers and I will most definitely use them again. The oysters were divine and the boys blended into the event perfectly."
- Rouge Events
"It was an absolute pleasure working with you on the Sky event, not only were your oysters awesome but you look great and had a great interaction with the guests. Everyone seemed to graduate towards you whenever you were in the room!"
- Fifteen Events
"With their limitless enthusiasm and fun, friendly attitude The Oyster Lads were a delight to work with. They have a great product and added something really special to our event: a great talking point. Incidentally, the oysters tasted amazing!"
- ISES UK
"The only thing more refreshing and nourishing than the oysters themselves is the oyster boys themselves."
- Chief Fullmooner/Comedian
Previous Clients Include:
RSVP
ISES
The Rouge Partnership
Sky
Redbull Racing
Photos of The Oyster Lads