The Music Band – Party & Function Band | UK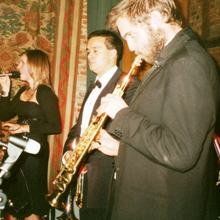 The Music Band, an established party band that has been requested to play all over the country. Some of their high-profile clients include Mercedes, the Home Office and Fulham Football Club. Their band members are music industry professionals working regularly in TV, BBC radio and the West End.
Whether a black-tie quartet for dinner jazz or a rock/ pop outfit delivering high-energy dance floor fillers, they have the experience and understanding to provide the perfect evening of music for clients.
They provide soloists, duos, trios or anything up to a fifteen-piece band. They continuously update their repertoire to include contemporary artists like Robbie Williams and James Blunt. Their accomplished musicians draw on years of experience to accommodate almost any request or set-list.
They want your event to be as stress free as possible. They pride themselves on appearance, punctuality and professionalism. Their equipment can handle any venue from a small suite to an outdoor marquee or a vast ballroom.
Options Available Include:
1st Option:
The standard 5 piece covers band comprising of female vocals, keyboards, guitar, bass guitar, and drums.
2nd Option:
A jazz trio (piano, bass and drums) playing for an hour as guests walk in, or as guests are eating. The standard 5 piece covers band then play their usual sets.
3rd Option:
The standard 5 piece covers band plus horns (e.g. trumpets, saxophones, trombones) and/or backing singers.
4th Option:
Having one of the options above and then having The Music Band DJ at the end of the night.
Standard Length of Performance:
2 x 1 hour sets or 3 x 40 minute sets. (CD music is available to play in-between sets).
Testimonials:
"Just a big big thank you for the fab music and confirmation to us that we made the right choice. What you played was perfect and the fact you did Jazz and party stuff just made it that much better."
- Private Client
"The band was a big success! I was not there for the evening but I did hear them sound checking and they were sounding good even then! Thanks a lot for all your help with this event and we look forward to working with you again in the future as well!"
- Logistik
Repertoire Includes:
Combo Charts:
2 Horn (Trumpet & Tenor)
All Blues
Amazing Grace
B Funk
Blue Salsa
Boogie On Reggae Woman
Canalope Island
Canyon
Caravan
Carol of the Bells
Chameleon
Chicken
Crazy Train
Don't You Worry About a Thing
First Noel
Flight of the Bumble Bee
Footprints
Fragile
Free Bird
Free Combos
God Rest Ye Merry Gentlemen
Hallelujah Chorus
O Come All Ye Faithful
Return of the Mack
Santa Claus Is Coming To Town
Silver Bells
Sleigh Ride
Stairway to Heaven
Take Five
Watermelon Man
We Three Funky Kings
When It Rains
3 Horn (Trumpet, Alto or Tenor, Trombone)
All of Me
All the Things You Are
Angel Eyes
Another Shade of Blue
Beer Can Country
Blue Note CA. '65
Bluesette
Body and Soul
Boy From NYC
Brazil Bound
Caravan
Celebration
Chicken
Clear Day From Ipanema
Dancing Bishop
Darn That Dream
Deed I Do
Desafinado
Do Nothin' Till You Hear From Me
Don't Get Around Much Anymore
Don't Stop
Elvin's Mambo
Fly Me to the Moon
Foggy Day
Frosty the Snowman
Girl from Ipanema
Glory of Love
Harlem Nocturne
Hawaii Five-O
How Insensitive
I Heard It through the Grape Vine
I Remember You
I'll Be Home for Christmas
Imagination
In A Sentimental Mood
It Don't Mean a Thing
It's a Good Thing
Jersey Bounce
Just The Way You Are
Killer Joe
King Of The Lobby
La Cumparsita
Let It Happen
Mambo Jambo
Misty
Mood Indigo
Moondance
Moonlight Serenade
My Foolish Heart
New York New York
Night Lights
Night Train
Nine To Five
Off To The Races
Old Devil Moon
Pennsylvania 6-5000
Pop The Cork
Poultry Guest
Red-Eye
Rise
Rock'n Robin
Round Midnight
Satin Doll
Serpentine Fire
Shiny Stockins
Stardust
Starsky & Hutch Theme
Stella By Starlight
String Of Pearls
Sunchild
Survival
Sweet Love
Walk Tall
Wave
Well You Needn't
You Came A Long Way From St Louis
Shake a Tail feather
Sweet Home Chicago
Smooth
I'm Outta Love
Let Me Entertain You
Superstitious
Proud Mary
Ain't No Sunshine
Mustang Sally
Midnight Hour
Lovely Day
Love Train
Celebration
Funky Music
If You Don't Know Me
You to Me
Dancing In the Street
Respect
Knock On Wood
Rock Me Baby
Dock of the Bay
Stand By Me
Freak Me
Say A Little Prayer
Could You Be Loved
You are the universe
Mustang Sally / Try A Little Tenderness
After the Love Has Gone / Boogie Wonderland / September
Power of a woman
Turn Your Love Around
I Will Survive
I Want You Back
Sex Machine
Too Young To Die / Canned Heat / Love Foolosophy
All My Love / Your secret love
Sex-O-Matic Venus Freak
Blame it on the Boogie
Lady Marmalade
I would die for you / Live for Love
Street Life
Kids
Smooth
Handbags and Glad rags
Mama Told Me Not to Come
Superstition / I Wish / Uptight / Signed, Sealed and Delivered
Still Know Nothing 'bout Me
Starlight
Papa was a Rolling Stone
Proud Mary
Play That Funky Music
Walking On Sunshine
Midnight Hour
Knock on Wood
Get Ready
Street Life
Grapevine
Rescue Me
I Feel Good
Sex Machine
Higher and Higher
Stand by Me
Everybody needs Somebody
Shake 'a Tail Feather
Think
Respect
Gimmie Some Loving'
Sweet Home Chicago
Soul Man
Waterloo
Dancing Queen
Disco Inferno
Lady Marmalade
Waterloo
We are Family
I will Survive
Carwash
Long Train Running
Angels
Blame It on the Boogie
Brown Eyed Girl
Can't Get You Out Of My Head
Carwash
Celebration
Club Tropicana
Come On Eileen
Dance the Night Away
Dancing Queen
Delilah
Disco 2000
Don't You Want Me Baby
Everybody Needs Somebody
Every Breath You Take
Great Balls Of Fire
Have I Told You Lately
I'm a Believer
I Feel Good
It's Not Unusual
I Will Survive
La Vida Loca
Let Me Entertain You
Wipe Out
Johnny B Goode
Saw Her Standing
All you need is Love
Day Tripper
A little Less conversation
Build me up Buttercup
Hopelessly Devoted to you
Celebration
Sweet Caroline
Honky Tonk Woman
Don't stop me now
We are the Champions
We Will Rock You
Car Wash
We are Family
Smooth Criminal
All the Small Things
Just Like a Pill
Hate to say I told you so
How you remind Me
Brimful of Asha
Buck Rodgers
Song 2
Bohemian Like You
Teenage Dirtbag
Murder on the Dance Floor
Can't get you outta my head
Spinning Around
Just Like a Pill
Rock DJ
Angels
1999
Smells Like Teen Spirit
Dancing Queen
Waterloo
Mamma Mia
Gimme Some Lovin'
We are Family
Lost in Music
Get ready
Knock on Wood
Rescue Me
Carwash
Le Freak
Oh What A Night
Disco Inferno
Young Hearts Run Free
Lady Marmalde
Going Back To My Roots
Celebrate
Get Down On It
I'm So Excited
Girls Just Wanna Have Fun
It's Raining Men
Walking On Sunshine
Upside Down
Let's Go Round Again
Free
Lady
Let Me Entertain You
Rock DJ
Can't Get You Out of My head
Murder on the Dance Floor
Photos of The Music Band