The Hairy Chairs – Walkabout Act | UK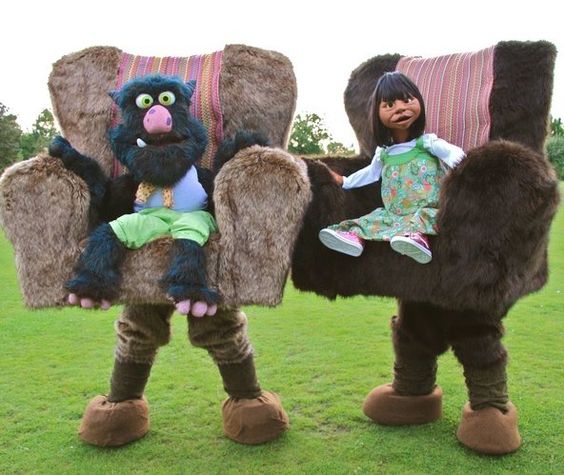 Animatronic puppetry and creature based street theatre walkabout performance. As a child did you imagine daring adventures in mythical lands, with magical companions and magnificent steeds? We present The Hairy Chairs…
Two giant walking armchairs convey their young charges around your event.
The ever curious Freya and her adopted younger brother the philosophical monster Grumph. Played in a style of wide eyed innocence, and high lighting the importance of friendship and adventure. These enchanting characters combine the slap-stick comedy of a Bernie Clifton style ostrich illusion with the subtleties of cable controlled animatronic puppetry.
Technical Specification:
Steward required
Parking required
This act dislikes stairs!
Over Weight Details for international events:
1 case @ 17.5kg
4 cases @ 11.5 kg
1 case @ 12kg
Total 75.5 kg
Standard Length of Performance:
3 x 30 or 2 x 45 minute sets per day.
Testimonials:
"Phenomenal and Superb are just two of many superlatives that you can use when you describe Epico the Dragon and working with Creature Encounter at your events!  From two extremely professional guys with imagination and drive come two outstanding characters; Epico the Dragon and Sir Aurelious Jones, the former who captivated children into believing that Dragons really do exist and the later who captured the hearts of many of the ladies present!  A tour de force in quality entertainment that made me laugh until tears were rolling down my cheeks!  A truly wonderful and amazing act that I would recommend without reservation."
– Historical Promotions and Event Management
"Epico is the best act I have seen in the last 5 years."
– The Red Dragon Centre
"They were fantastic! They were a pleasure to work with and really helpful, Epico was a large dragon and they did two fantastic sessions one ended up being an hour long! I hope they enjoyed the event. We will certainly be interested in booking them again next year. Possibly inviting them back for a show."
– Carmathenshire County Council
"…two of the nicest people I've ever worked with."
– Witsend Management
"The guys were amazing and the show was excellent, really funny and all the kids loved it. Definitely something we would book again as it was magical. Thanks for all your help."
– Merthyr Tydfil County Borough Council (via Contraband)
Previous Clients Include:
The Red Dragon Shopping Centre
Cumban Shopping Centre
Nottingham City Council
Liverpool City Council
Cornbury Festival
Greenbelt Festival
Reading Town Council
Photos of The Hairy Chairs