The Glitter Girls – Human Statues | UK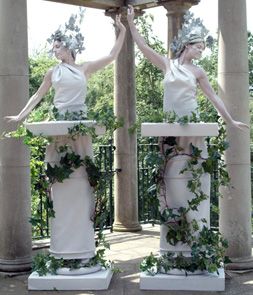 Our Body Statues are widely considered to be the most innovative and professional in the uk.
By creating their own characters and combining this with amazing make-up designs and interesting costumes, their living art can perfectly compliment any event from party receptions or front of house entertainment, to presentations and exhibition stands.
In addition to their fascinating visual image, Body Statues create a hilarious and entertaining spectacle by luring people into the security that these are simple inanimate marble statues, and then inexplicably coming to life! the results are amazing.
There are endless possibilities, statues dressed as cherubs, angels, flaming torch- bearers, the choice is yours. you can even choose the colour to compliment the theme of your day, this makes them perfect for holiday events such as Valentines day or Christmas.
The Glitter Girls are available for all manner of occasions including private parties, VIP parties, outdoor and indoor events as well as corporate entertaining.
Testimonials:
"Just emailing to say how happy we were with the two human statues. They did a great job and everyone was very impressed with them. If you are talking to them could you pass this message on as I didnt get a chance to talk to them after their performance. It was a hectic night but went really well. Everyone had a great time.
Thanks again,"
- Emmanuel College Ball
Photos of The Glitter Girls