The Footmen – Walkabout Characters | UK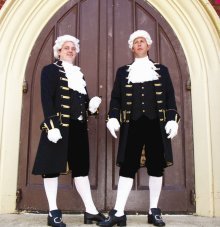 The Footmen will endeavour to make any event run smoothly, taking away as much pressure as required from the host. They will make sure the event is as fun as possible for both the host and the guests!
The Footmen:
The Footmen are a perfect walkabout act for all sorts of different occasions. Whether it be a wedding reception, or a trade show, they are highly experienced performers and add that little bit extra to any occasion! Charming, amusing, demure and classy in their powdered wigs. Helping you to host, these footmen will take the weight off by offering to carry out a myriad of duties.
The Naked Footmen:
That's right, the cheeky boys are now showing their cheek for real and revealing how impeccably attired they are underneath the period costume. The Naked Footmen assure you of the same high impeccable standard as The footmen, bringing their cheeky charm to almost any event you can imagine.
Available For:
Meet and greet
Directing guests
Serving
Mix and mingle
Announcments
Doormen and escorting
Surprise appearances
Testimonials:
The Footmen graced our launch event with warmth, wit and an abundance of charm. Hospitality doesn't get any more personable!
- Private Client
"The footmen are an addition to any great party and gave our launch party the finishing touches. They helped us out as much as possible and with their cheekiness and charm bought a spark to the party!!"
- Stanmer House
Photos of The Footmen