Walkabout Act: The Delight Factory – France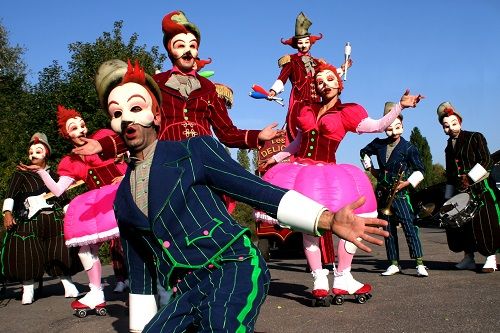 These exciting corporate entertainers have created a totally unique show for corporate events, street parades and festivals. The Delight Factory will attract lots of attention with their bright costumes which light up in the dark. Perfect for indoor and outdoor events.
They comes from a universe made of sweets, acid drops, strawberry marshmallows, lollipop-men, sugar ladies and fizzy delicacies! You will find an array of delights with The Delight Factory!
Acts Available:
This act includes twelve characters but these can be hired on a smaller scale:
The Confectioner – Stilt Walker
The Sugar Ladies – 2 Rollerblade Performers
The Fool – Player of Sounds
The Delights Magicians – 2 Juggling Stilt Walkers
The Lollipop Men – Fanfare with 6 musicians – inflated costumes
Standard Length of Performance:
The Delight Factory can perform 1 x 90 or 2 x 45 minute walkabout sets.
Photos of The Delight Factory