Steen – Roller Skaters | UK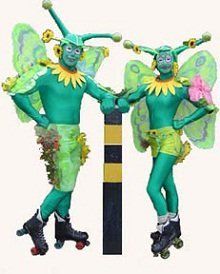 Steen is a professional stuntman appearing in over 400 feature films and television productions. He is a member of the Guinness Book of World Records for fire breathing, He loves to entertain, with fire, as a human statue, angle grinder, dancer, and acrobat. He is also A Scottish Martial Arts champion.
Steen has designed and made over 200 costumes that he uses for these skills. He can work as solo artist, duet or part of a fully choreographed show.
See some of the countries top skaters perform acrobatic feats, spin in the air, walk on there hands, or even slide into the splits, and of course they will be wearing the brightest costumes designed to compliment your event.
Costumes Available Include:
Union Jacks
70s
Funky
Buggets
Charlie Chaplin
Groups
Gold
Acro Funky
Skating Officer
Harlequin
Testimonials:
"The most varied and talented group we have seen."
- Fuego
"They performed an evening of entertainment for my staff with the wow factor we were promised."
- Mcdonalds
Previous Clients Include:
Bank of Scotland
O2
Specsavers
Kensington Palace
Brighton Festival
T Mobile
Warner Brothers
Fuego-Malta
Mcdonalds
Disney
Photos of Steen