Stunt Performers: Star Wars Theme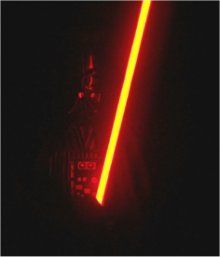 If you are looking to support the rebel alliance and need the aid of some Jedi Knights to protect you from the Lords of the Sith, then strap yourself in and let us take you beyond infinity on a trip across the universe.
The scene is set with Imperial Stormtroopers checking guests for rebels, smugglers and droids, all with a seedy spaceport feel. They suggest you comply fully with the soldiers of the Empire, they don't take no for an answer! This offers great photo opportunities and a chance for character interaction with the guests.
At a pre-set moment during the evening, a speech or award ceremony maybe, there is the thundering sounds of a space ship battle and large explosion. The lights flicker and fade, to be replaced by emergency lighting. There is a commotion or a pyrotechnic effect at one end of the venue and in burst Stormtroopers, closely followed by the Dark Lord himself. In strides the fearsome figure of Darth Vader, his presence towering over everyone. He makes his way front of stage and issues his demands, informing everyone that they are now under control of the Empire and all secret plans for the rebellion must be handed over. Although protests are made Vader gives the audience a short time to comply and promises dire consequences if he doesn't get what he wants upon his return. He then leaves, some troopers in tow, some remaining as guards.
The second scene opens with Vader re-entering with his troops, re-iterating his demands. This time however they are swiftly followed by two Jedi, who are here to rescue the audience and retrieve the vital plans. Vader has a surprise though and after a final speech telling the Jedi that their efforts are in vain and any resistance to the Emperor is futile he backs into the shadows to be replaced by his apprentice, Darth Maul. Lightsabres are drawn and a fast paced and spectacular duel ensues with slick choreography and realism.
But who will win the day and most importantly, will the dark side of the Force triumph this time? The fight climaxes and the show wraps up, leaving you time to applaud and enjoy the rest of the evening.
Testimonials:
"Thanks for recommending Wayne and the team as the focal point of our recognition dinner. The show they put on was highly impressive, very entertaining, and incredibly funny and went down really well with the audience. On top of this, the support and flexibility the team gave throughout the day was brilliant, from welcoming people at the gang plank, through to marching guests between parts of the location, and making announcements."
- Private Client
"Fast moving, colourful and very professional"
- Fools Paradise
"Thanks guys! Once again The Stunt Team saved the day!"
- NDS Promotions Ltd
"Arresting entertainment made the evening go with a bang!"
- Zap Enterprises
"The guys were fantastic – provided a great stunt, and worked the theme and messaging of the show in very well."
- House PR (via Contraband)
Previous Clients Include:
Virgin
British Rail
Ernst Young
Kensington Palace
Hampton Court
Tower Of London
Barclays Bank
Shell
British Airways
Pinewood Studio's
Catch A Star - Dubai
Doha Film Festival - Qatar
Tescos
Sainsburys
Clinton Cards
When You Wish Upon A Star
Yahoo
Legal Business
Rentokil
New Look
KP
The Dorchester
The Intercontinental
The Hilton
Photos of Stars Wars Theme